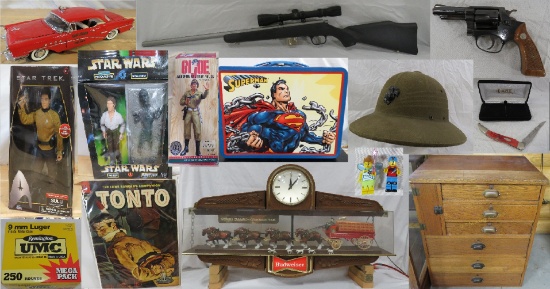 9-9-21 Firearms, military, ammo, toys, Breweriana
Thursday, September 9, 2021 | 5:00 PM Central
Auction closed.
9-9-21 Firearms, military, ammo, toys, Breweriana
Thursday, September 9, 2021 | 5:00 PM Central
Internet Premium:
15% - 18%
See Special Terms for additional fees
Description
Firearms, ammunition, military items, knives- many Case, fishing rods and gear, compound and recurve bows and arrows, beer signs, neons, mirrors and more- Hamm's and other, Marvel DC and other comics, Action figures- Lord of the Rings, Matrix, Spawn, Star Trek, Star Wars and others, Legos, diecast, Kiddie Car Classics, Art work- many wildlife pieces, Lenox birds, Antique furniture, military, car & other books, and more.
Firearms include: Vintage Bolt Action In-Line Muzzleloader, Wauregan Arms single shot 12 GA, Stoeger Realtree Coach Gun 12 GA SXS,
Remington Model 11-48 12GA, Mossberg 500A 12GA Shotgun with extra barrel, Browning BAR .300 WIN MAG Rifle with Scope Savage Mark II .22 LR Rifle and Center Point Scope, Marlin 88255V Stainless .22WMR Rifle with scope,J Stevens Springfield Model 15 .22 S L LR Rifle, Carcano M38 Cavalry Rifle 6.5 X 52mm, Romanian M69 training rifle in .22 LR, German K98 BNZ 41 Rifle 8mm, Remington Model 1891 Mosin Nagant Rifle, Lee Enfield No 4T Sniper Rifle .303 w/Scope, Winchester Model 1885 Low Wall Winder Musket .22 Short, Ross Rifle Co MKII...
Show more
Show Less