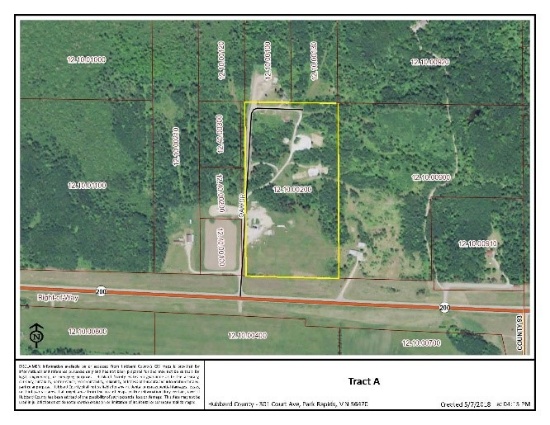 Grandy, Inc. Real Estate Auction
Wednesday, June 13, 2018 | 11:00 AM Central
Auction closed.
Grandy, Inc. Real Estate Auction
Wednesday, June 13, 2018 | 11:00 AM Central
Internet Premium:
5%
See Special Terms for additional fees
Description
Wednesday June 13th at 11AM. 9 Tracts of real estate including land, a cement plant, and some land with gravel in Laporte, MN.
Lot # 0 (Sale Order: 1 of 10)
Buyers make sure to read all terms prior to bidding.
Lot # 1 (Sale Order: 2 of 10)
Tract A: 19.75 acres with Cement Plant Parcel R121000200 Hubbard County. This parcel also has an office trailer with phone hookup and electricity, a drilled well, and 3
...more
Lot # 2 (Sale Order: 3 of 10)
Tract B: 10 Acres of Woods parcel R121000130 Hubbard County
Lot # 3 (Sale Order: 4 of 10)
Tract C: 9.88 Acres Parcel R121000120 Hubbard County
Lot # 4 (Sale Order: 5 of 10)
Tract D: 3.21 Acres parcel R124000300 Hubbard County
Lot # 5 (Sale Order: 6 of 10)
Tract E: 17.3 acres with gravel parcel R192901700 Hubbard County
Lot # 6 (Sale Order: 7 of 10)
Tract F: 15 Acres with gravel Parcel R192903011 Hubbard County
Lot # 7 (Sale Order: 8 of 10)
Tract G: 37.74 acres with gravel parcel R191200500 Hubbard County
Lot # 8 (Sale Order: 9 of 10)
Tract H: 39.92 acres, 10 acres, and 39.24 acres parcel numbers R490162100, R490161201, and R490161300 Cass County
Lot # 9 (Sale Order: 10 of 10)
Tract I: 1 acre parcel number R490172103 Cass County