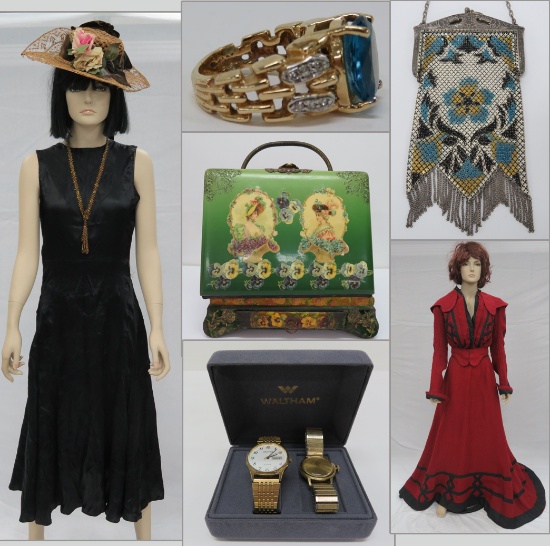 Period fashions, Jewelry, Purses, Hats, and More!
Auction closed.
Period fashions, Jewelry, Purses, Hats, and More!
Internet Premium:
18%
See Special Terms for additional fees
Description
Period fashions! Jewelry, purses, shoes, hats, accessories, and early photos and prints. 14kt and 10kt gold jewelry, mens and ladies watches, sterling silver jewelry, many pieces of black and white clothing, lovely dresses, coats, capes, hats, hat boxes, high top shoes and boots, tea dresses (Boho styling) wedding dresses, tuxedo and suit, beaded tops, purses by Mandolay, Whiting and Davis, and other lovely beaded and mesh bags, ornate celluloid dresser boxes, photo albums with images, fashion catalogs and magazines, vintage swimwear, coats and walking suits, riding attire, children clothing, dress forms (cage bottom), embellishments, costume jewelry, Harrison Fisher art, Lovely shadow box of hair art, spectacular hand painted fan, parasols, and some vintage inspired fashion pieces. Grab your piece of fashion, art and design HERE. Most pieces from 1800-1930, beaded, velvet, silk, cotton, crochet, lace, wool and linen all are represented, most pieces from one private collection.