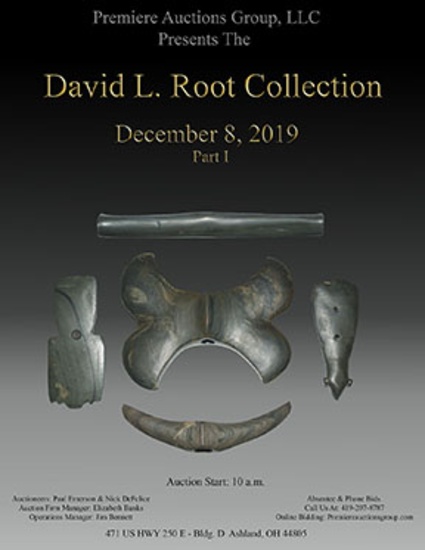 David L. Root Indian Artifact Auction- Premiere
Sunday, December 8, 2019 | 10:00 AM Eastern
Auction closed.
David L. Root Indian Artifact Auction- Premiere
Sunday, December 8, 2019 | 10:00 AM Eastern
Internet Premium:
15%
See Special Terms for additional fees
Description
Sale #1 of the David Leigh Root Indian Artifact Collection - the largest collection of Ancient Ornamental Slate Indian Artifacts ever assembled. Gorgets, Pendants, Bannerstones, Arrowheads & more. All artifacts in this sale will be pictured in the book The David Leigh Root Collection - Vol. 1 which comes out Jan 2021. For info on previewing these relics or attending this auction in person call Premiere Auctions Group at 419-207-8787.

Many (most) of the relics in this auction are from well known old-time collections and have been pictured in many artifact books, magazines and publications. For a collectors copy of the printed catalog for this sale ($25) email jim@oldrelics.com.

About the late David Leigh Root:
Mr. David L. Root was well known at the highest levels of the artifact
collecting community as a discriminating collector of investment grade ancient relics. While Dave's collection includes many types of
artifacts from flint arrowheads and knives to stone discoidals, axes and celts, his true collecting passion centered around collecting...
Show more
Show Less