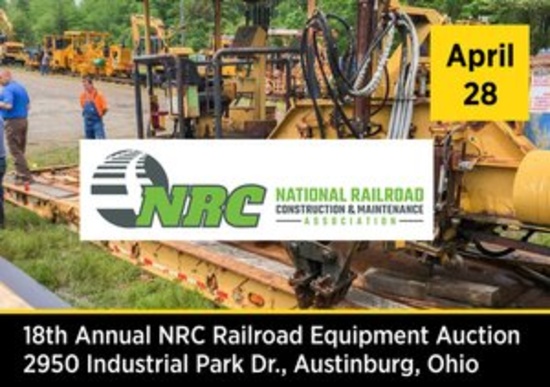 NRC Railroad Equipment Auction (ONLINE ONLY)
Auction closed.
NRC Railroad Equipment Auction (ONLINE ONLY)
Internet Premium:
14%
See Special Terms for additional fees
90 Second Extended Bidding
Description
(ALL SMALL ITEMS) THIS WILL BE AN ONLINE ONLY AUCTION. This springtime event brings together buyers and sellers of used railroad construction and maintenance equipment. All contractors, suppliers, and railroads are invited to sell and/or donate their equipment.

Past auctions have historically featured a range of used equipment, including the following:

adzers/cribbers

air compressors

backhoes

ballast regulators and compactors

clip applicators and removers

cranes

excavators and gradalls

hi-rail trucks

Mark II, III, IV and 6700S tampers

rail heaters

rail saws

rotary scarifiers

speed swings

spike drivers and pullers

tie handlers

tie removers/inserters

track liners

track undercutters

To have your items consigned, contact Thomas Blackmon at (501) 352-4702 or thomas@blackmonauctions.com.