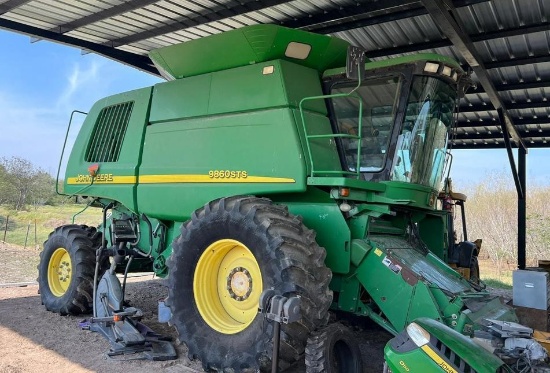 PUBLIC AUCTION FARM EQUIPMENT AUCTION
Saturday, March 25, 2023 | 10:00 AM Central
Auction closed.
PUBLIC AUCTION FARM EQUIPMENT AUCTION
Saturday, March 25, 2023 | 10:00 AM Central
Description
EXPWY 77 EXIT 38 (SPUR 413/FM 2629), SEBASTIAN , TX. 78594

NOTE FOR LIVE & ONLINE BUYERS: $100.00 DEPOSIT WILL BE ADDED TO YOUR INVOICE FOR THIS EVENT. REIMBURSEMENT WILL BE DETERMINED WHEN ALL ITEMS PURCHASED ARE PICKED UP AND CLEARED BY OUR STAFF, NOTHING IS TO BE LEFT BEHIND. KEEP IN MIND THAT IF YOU PAY WITH A CARD, YOUR REIMBURSEMENT WILL BE MAILED TO YOU IN A FORM OF A CHECK. IF YOU COME IN IN PERSON TO PAY CASH, WE WILL THEN RETURN YOUR DEPOSIT IN FORM OF CASH WHEN ALL ITEMS ARE REMOVED. YOU WILL HAVE MON. THRU WED. TO CLEAR ALL ITEMS PURCHASED FROM THE FACILITY UNLESS WE AGREE TO SOME ARRANGEMENTS FOR TRANSPORT. YOU WILL LOSE YOUR DEPOSIT IF ITEMS ARE NOT PICKED UP AT THE TIME FRAME GIVEN. WE APPRECIATE YOUR PATIENCE & THANK YOU IN ADVANCE FOR YOUR EFFORTS!

LOADING ASSISTANCE AVAILABLE DEPENDING ON THE CIRCUMSTANCES.

*KEEP IN MIND THAT SOME VEHICLES ARE AT OTHER OFFSITE LOCATIONS.

You must contact Auction Company immediately within the 48 hr period to pay your unpaid invoice. If payment is paid with a Debit or Credit Card an...
Show more
Show Less