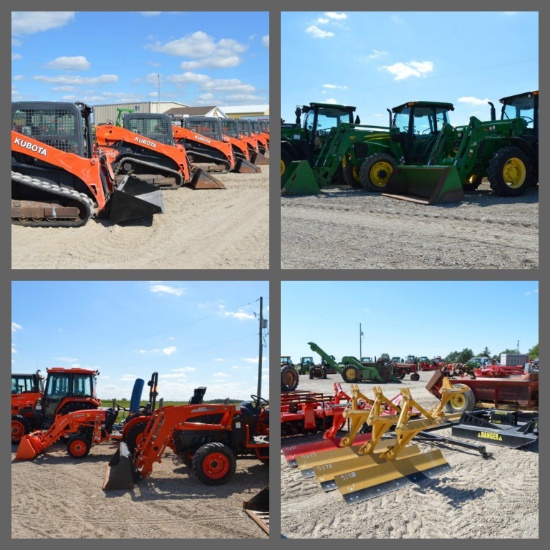 BRINDLEY AUCTION INVENTORY REDUCTION AUCTION SALE
Saturday, October 19, 2019 | 9:00 AM Eastern
Auction closed.
BRINDLEY AUCTION INVENTORY REDUCTION AUCTION SALE
Saturday, October 19, 2019 | 9:00 AM Eastern
Description
AUCTION WILL CONSIST OF TRACTORS, CONSTRUCTION & INDUSTRIAL EQUIPMENT,
HARVESTING EQUIPMENT, TILLAGE EQUIPMENT, SQUARE BALERS, ROUND BALERS, HAYBINES, DISCBINES, HAY RAKES, BALE CHOPPERS, MANURE SPREADERS, SEEDRILLS & SEEDERS, MOWERS, ROCK PICKERS, LOADER ATTACHMENTS, BUCKETS & BOX SCRAPERS, PALLET FORKS, MIXMILLS, FORAGE WAGONS, GRAVITY BINS, WAGONS, 3PTH BACKHOES, SNOW BLOWERS, PLOWS, LANDSCAPING EQUIPMENT, LAWN & GARDEN, SNOW REMOVAL EQUIPMENT, GRAPPLES, TIRES & DUALS, TRAILERS, UTILITY VEHICLES, SNOWMOBILES, RACKING. THE FIRST 500 AUCTION ITEMS WILL BE UNRESERVED!