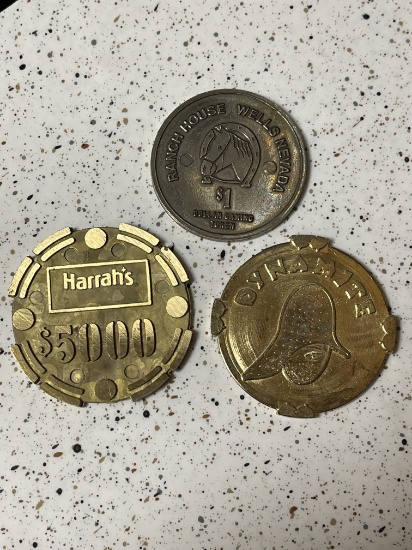 Rare $5000 Harrahs Casino Chip Brass Core Auction
Auction closed.
Rare $5000 Harrahs Casino Chip Brass Core Auction
Internet Premium:
17%
See Special Terms for additional fees
Description
This item was found in a storage unit this month in Scottsdale, Arizona. From our research, it's a very rare item. It was die-cut in early 1980s and presented here in great condition. More about the Casino Chip:

In the late 1970s and early 1980s it was customary for Casino Chips to have a Brass Core to them, die-cut and then the plastic/clay/ceramic material added to them in manufacturing. This item is present to you before that manufacturing or has had the material chipped away.

This specific chip is from one of the Harrahs Reno/Lake Tahoe Casinos and its denomination is $5000.

Here is some information from http://www.chipguide.themogh.org/

CG268293 Obsolete
Denom: $5000
Issued: 1980s
Color: Dk Brown
Inserts: 8 Brass
Mold: Plain
Logo: Brass
Catalog#: V2730
Contributed by: John Chamberlain

PMSC. Oversized.
This Harrahs $5000 Casino Chip Brass Core is a very hard to find item. It's the Brass Core of a Casino Chip without the colored plastic/clay/ceramic material applied duri
...more
Collectible Golden Metal Casino Chip Core Dynamite Mother Tucker's Edwin S. Forte Enterprise. See Pics.
Collectible Rare $1 Ranch House Wells Nevada Gaming Token 1979 Excellent Condition. See Pics.