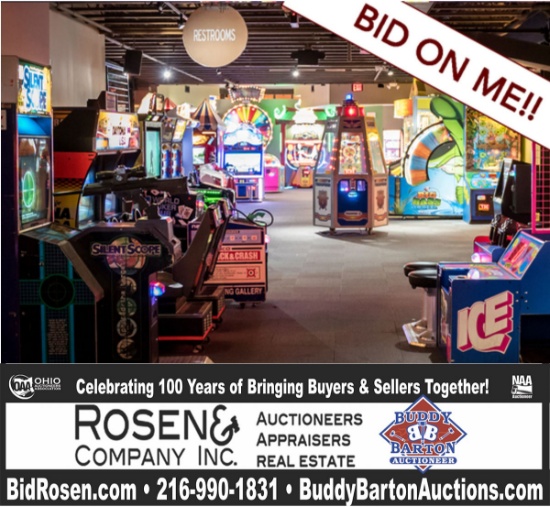 80+ Late Model Arcade Games & Restaurant/Bar Equip
Auction closed.
80+ Late Model Arcade Games & Restaurant/Bar Equip
Description
Arcade Games & Restaurant/Catering Equip!!

Arcade Games:2019 Jurassic Park Full Cabin dual player shot game, Qubica AMF Route 66 Dual Player Bowling, Mini-Dunxx Basketball, Bug Blitz Dual Shooting Water Game, Wacky Ducks Dual Knockout, Rabbit Racing Punch, SpongeBob Squarepants Jelly Fishing, Popeye Sailorman Strength Tester, Poppjng Popcorn Game, Silver Strike Bowling, Tekken 5 Dual Player, Sea Wolf Battleship, Silent Scope Sniper, Sega Daytona USA Dual Player Racing, Quick & Crash Real Shooting, Sega Waverunner ride-on, SkyMasters Dual Player Ball Shoot, Ticket Troopers Spinning Arcade, Multiple ticket balance checkers, Joust Dual Player, Sega Ghost Squad Dual Player Shooting, (2) Namco Mario Kart Sit-Down Race games, Pirate Hook 2 sided dual player LED, Elvis Live in Las Vegas 8 Player coin dispensing game, Dance Dance Revolution Super Nova dual player, Big Buck Hunter Call of the Wild, Golden Tee Live, Bags, Guitar Hero dual player, Big Bass large spinning wheel ticket game, Namco Flaming Finger, The Big One giant mechanical claw, Colorama 4 player spinning ball...
Show more
Show Less