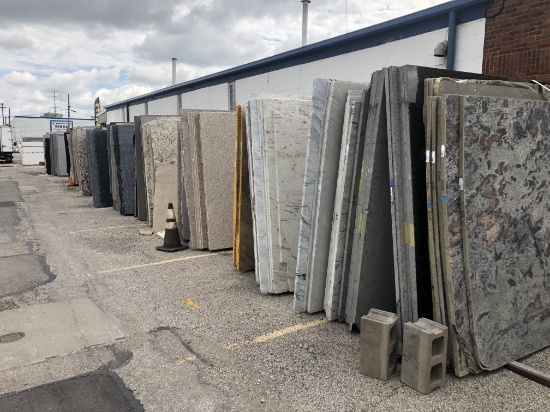 +800 Beautiful Granite & Marble Slabs & A-Frames
Friday, December 13, 2019 | 10:00 AM Eastern
Auction closed.
+800 Beautiful Granite & Marble Slabs & A-Frames
Friday, December 13, 2019 | 10:00 AM Eastern
Description
Approx. 800 Slabs Of Beautiful Granite, Marble, Quartz, Stone, A-Frames & More! Ready for your Kitchen Countertops, Bathroom Vanities, Ofc. and More! Slabs are ready for fabrication for home decor, Office or design work.
BUILDERS, DEALERS,WHOLESALERS, INTERIOR DESIGNERS & HOMEOWNERS these are the colors we have for you!

Ablanki, Absolute Black, Absolute Black 3/4", African Bordeaux, Alaska Beige, Almond Gold, Amarelo Ornamental, Amba Gold, Androneda White, Antique Brown, Antique White, Antique White, Aqua Verde, Arctic White, Asian Bloom, Aspen White, Asteria Granite Leather, Azul Aran, Bain Brook ¾, Balthus, Baltic Brown,Beta Lotus Late, Betulaire Granite, Bianca Antiqua, Bianca Carrera, Bianca Napoleone, Bianco Antico, Black & White, Black & white, Black Galaxy , Black Gray, Black Hill Granite, Black Mystery, Black Pearl, Black Pearl Leather, Black Steel, Black Steel Remenant, Black Uba Tuba, Blanco Taupe, Blue Pearl, Blue Pearl Royal, Bordeaux Dream, Butterfly Green, Butterfly Green, Caledonia , Cambridge White, Carioca Gold, Caspian White, Coffee Brown,...
Show more
Show Less