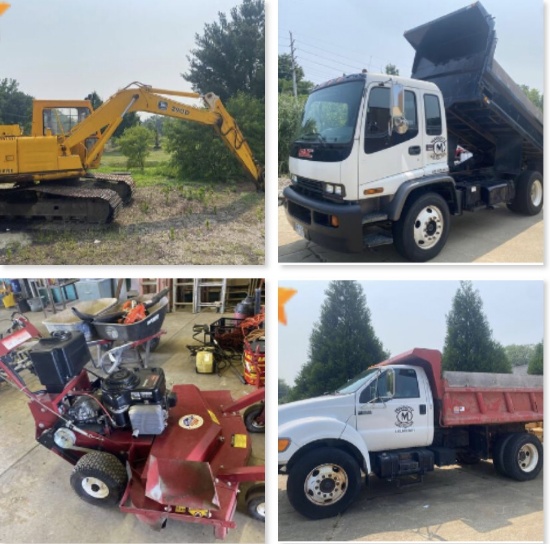 Online-Only Concrete Contractor Equipment Auction
Auction closed.
Online-Only Concrete Contractor Equipment Auction
Description
Vintage Corker Press, New 5 gal bucket of Karnak Flashing Cement, Assorted climbing rope200 ft Tape Measure and Lockable Cable, (2) Shop Vacs, CE 2 hp Electric Power Washer, New case of (12) 1-quart bottles of Prime Series Synblend 5w-20 motor oil, Opened box of (4) 1 gal 15w-40 Shell Rotella motor oil, (2) Older Metal Stop Signs, (2) new comm truck mud flaps. Fuel can lot, Tackle and Tool Box Lot, Vintage Metal Toolbox, Craftsman chainsaw and case, Lot of Tiki Torches, chimney sweeper and flags, (2) Plastic storage lockers, (3) vintage lawn chairs, Assorted air hose lot, 2) folding chairs and umbrella, Stack of boxes, large tub, and (2) tarps, Tool belts and chainsaw, Ductwork, flashing, and extension cord, All lumber used for forms-shelf/scaffold not included, Assorted tooling, , (4) sections of scaffolding w/ crates of casters and cross members-see pics., (4) assorted pylons, Igloo fishing cooler, Large Road Work Ahead sign and Roadside sign stand, Assorted rope and climbing gear, Scaffolding and cross members-no casters, Pair of ladder jacks, Scaffolding lot. 4 uprights and 5...
Show more
Show Less