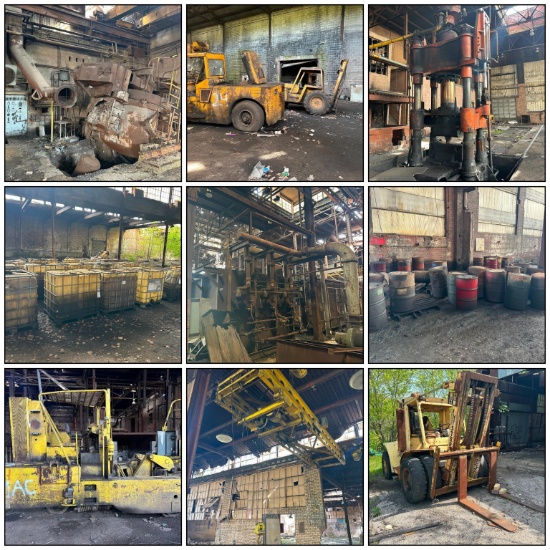 Scrapper's Delight
Lots start closing Monday, June 12, 2023 | 6:00 PM Eastern
Until lots start closing.
Scrapper's Delight
Lots start closing Monday, June 12, 2023 | 6:00 PM Eastern
Until lots start closing.
Description
All scrap items not bolted down within vacated building
(Information Only - DO NOT BID ON THIS LOT)

Pictures may show other items (in part, or in full) that are not included in the lot. Please use the title, description, and the primary subject of the pictures as reference

All auction lots are sold as-is. We have done our best to add additional details if there are any known issues or flaws. It is the bidders' responsibility to read descriptions and preview pictures prior to placing a bid. Therefore, LOOK CAREFULLY at pictures and any provided links for additional information (links may be to a similar item if not identical). If you have questions about items, please ask questions PRIOR to bidding. We will do our best to answer your questions so you can make an educated purchase.


The following link offers additional suggestions from Proxibid that may be helpful as well: HOW TO BID ON AN ONLINE AUCTION

(Information Only - DO NOT BID ON THIS LOT)
PICK UP & REMOVAL IS SCHEDULED FOR: Before 8/12/23

ITEM PREVIEW IS: Thursday, June 1; 1:00pm-3:00pm

Please Call/Text Kevin @ 330-382-5151 with any questions
(Information Only - DO NOT BID ON THIS LOT)
YOUR CREDIT CARD ON FILE WITH PROXIBID WILL NOT BE CHARGED AT THE CLOSE OF AUCTION.
Please Note: Rosen and Company / Buddy Barton Auctions do not have access to bidder credit card information.
PAYMENT IS DUE WITHIN 24 HOURS OF THE AUCTION CLOSING
BIDDERS WITH UNPAID INVOICES WILL BE REPORTED TO PROXIBID AFTER 24 HOURS IF THEY DO NOT TAKE ACTION TO REACH OUT TO AUCTION COORDINATOR AND PAY THEIR OUTSTANDING INVOICE.


Please Call/Text Kevin @ 330-382-5151 with any questions
(Information Only - DO NOT BID ON THIS LOT)

The successful bidder, purchaser, vendor or any other company or person engaged and retained to remove the Claimed Assets from the Site shall be licensed and bonded within the State of Ohio and shall present to the Land Bank proof of liability insurance for not less than $1,000,000.00 per occurrence and $2,000,000.00 general aggregate three (3) business days before removing any Claimed Assets from the Site.

The Land Bank shall be expressly identified and designated as an "Additional Insured" on any policy of liability insurance held by the successful bidder, purchaser, vendor or any other company or person engaged and retained to remove the Claimed Assets from the Site. Proof of this requirement must be submitted to the Land Bank three (3) business days before removing any Claimed Assets from the Site.

The County Land Bank and Local EPA may/will be on-site during loadout. As such, loadout will be during specific hours (Mon-Fri, 6:00am-3:00pm), and all work must be completed before August 12, 2023

Successful bidder must take all items of personal property in total and cannot separate, dismantle any machinery, equipment, or other items that may contain asbestos or other harmful contaminants.

Winning bidders for all items are responsible for safe and proper removal of item(s). Please bring additional help along with packing and moving materials to ensure you can successfully pick your items up


Please Call/Text Kevin @ 330-382-5151 with any questions
(Information Only - DO NOT BID ON THIS LOT)
BUILDING IS IN A STATE OF DISREPAIR. PREVIEWERS AND WINNING BIDDER MUST SIGN A WAIVER OF LIABILITY BEFORE ENTERING PREMISES
Please Call/Text Kevin @ 330-382-5151 with any questions
All scrap pictured in abandoned building. Please scroll through multiple pictures in this lot to see everything you can get

Closed Lots