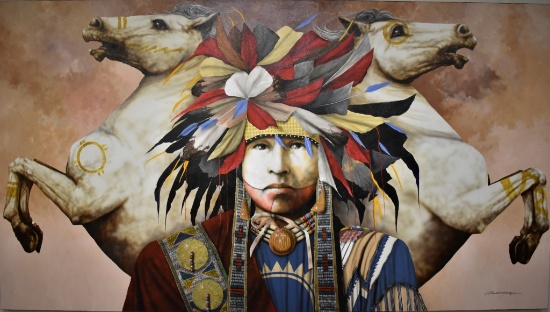 Antiques, Collectibles & Fine Art Auction
Sunday, December 15, 2019 | 12:00 PM Central
Auction closed.
Antiques, Collectibles & Fine Art Auction
Sunday, December 15, 2019 | 12:00 PM Central
Internet Premium:
18%
See Special Terms for additional fees
Description
Antiques & Collectibles Auction
Featuring the Dr. Michael O'Banion Estate. Dr. O'Banion was a Veterinarian in the Quad Cities area and traveled the world big game hunting. Dr. O'Banion invested in unique and quality items including 11 Phenomenal original (some commissioned) Native American paintings by J. D. Challenger plus 7 signed & no'd prints. Alex Brown architectural bronze lions, Naval brass cannon, Native America items including pipe bag, moccasins, Ermine and Crow ceremonial headdresses, Circle Y Sweet Home TX saddle with silver, African masks, FULL mount African lion, elephant ear painting, 2 large amethyst geodes, amazing antique furniture, bronze statues, silver stag pieces plus more. Other: 4 animation cell paintings, vintage mink stole, wood & bronze, South American spotted cat & beaver coat,  Florida cypress wood floor lamp, Alligator shoes and purse, collection of RR lanterns, glassware, Edison Victrola with spools, lots of purses including vintage and antique, plus lots more.