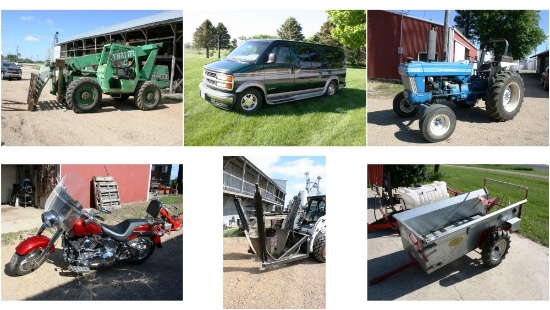 Skyberg – Personal Property Auction
Saturday, June 19, 2021 | 1:00 PM Central
Auction closed.
Skyberg – Personal Property Auction
Saturday, June 19, 2021 | 1:00 PM Central
Description
6610 FORD TRACTOR, BOBCAT ACCESSORIES; 2006 HARLEY DAVIDSON SOFTTAIL MOTORCYCLE, 1980 HONDA XL-500 MOTORCYCLE, BUDWEISER MINI CHOPPER, 96 CHEVY CUSTOM EXTA-VAN, 88 FORD CUBE TRUCK E35G DIESEL, DIESEL DYNOLIFT, AREMOTOR 33 FT. WINDMILL NEW BEARINGS, NEW SHAFT AND COMPLETELY REBUILD READY TO LOAD AND GO AS WELL AS MANY OTHER MISC. ITEMS!