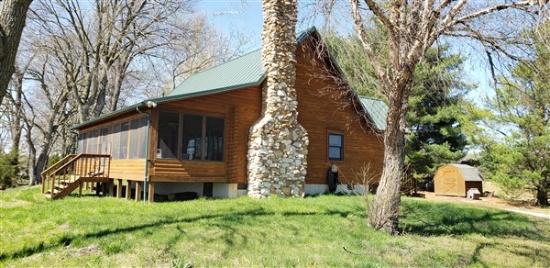 822 ACRE IL RIVER BOTTOM LAND AUCTION
Monday, June 14, 2021 | 11:00 AM Central
Auction closed.
822 ACRE IL RIVER BOTTOM LAND AUCTION
Monday, June 14, 2021 | 11:00 AM Central
Internet Premium:
1.5%
See Special Terms for additional fees
Description
THIS WILL BE A LIVE ONSITE AUCTION WITH PROXIBID INTERNET BIDDING AVAILABLE

- 633.89 ACRES M/L TILLABLE, IL RIVER BOTTOM FARMLAND
- 570 ACRES M/L IRRIGATED FARMLAND IN TRACTS 3-7
- ILLINOIS RIVER HUNTNG / RECREATIONAL PARADISE
- WHITETAIL DEER AND DUCK HUNTING - HOMESITES
- 3 BR LOG HOME - BARN - 63,000 BU GRAIN STORAGE
- TREMENDOUS INCOME & INVESTMENT OPPORTUNITY!

Auction Procedure: Tracts 1-7 will be offered Buyers Choice on a dollar per acre basis until all 7 tracts are selected. Tract 8 will then be offered on a total dollar basis. Survey acreage figures will be used to calculate final valuation of Tracts 2 & 4-7.

SURVEY RESULTS WILL BE POSTED HERE WHEN AVAILABLE.

Survey results on Tracts 2, 4-7 and final acres provided on Tracts 1 and 3 multiplied by the high bid price on respective tracts (in addition to applicable online buyers fees) will be used to calculate the final purchase price. Acres provided are approximate. Acres in the quantity category on the Proxibid platform are rounded by Proxibid and will...
Show more
Show Less
Lot # 1 (Sale Order: 1 of 8)
Quantity: 197
196.56 acres m/l, 681 Smith Lake Lane Meredosia, IL, an excellent recreation property with Smith Lake ownership & access and a modern lake-side 3-bedroom log home "cabin"
...more
Lot # 2 (Sale Order: 2 of 8)
Quantity: 35
34.59 acres m/l, 32.23 acres tillable m/l- 93% tillable farmland. Dickinson, Ross & Plainfield soils. Lies west of Smith Lake Rd and SE of the Tract 1 log home. The levee
...more
Lot # 3 (Sale Order: 3 of 8)
Quantity: 75
75.07 acres m/l, 73.6 cropland acres m/l- 98% tillable, level, Illinois River bottom farmland, electric motor system irrigated with Sparta and Plainfield soils. Cemetery
...more
Lot # 4 (Sale Order: 4 of 8)
Quantity: 147
146.76 acres m/l, 143.54 cropland acres m/l- 98% tillable farmland with Sparta, Hoopeston & Ross soils. Center pivot irrigation unit. Lies east of Smith Lake Rd and is no
...more
Lot # 5 (Sale Order: 5 of 8)
Quantity: 182
182.03 acres m/l, 182.03 cropland acres m/l- Nearly all tillable farm with Sparta, & Dickinson soils. Center pivot irrigation system. Borders Smith Lake Rd on the east an
...more
Lot # 6 (Sale Order: 6 of 8)
Quantity: 81
80.63 acres m/l, 80.63 cropland acres m/l- Nearly all tillable farmland with Sparta soils. Center pivot irrigation system. Tract 6 is flanked by Bunch Rd on the west and
...more
Lot # 7 (Sale Order: 7 of 8)
Quantity: 122
121.86 acres m/l, 121.86 cropland acres m/l- Nearly all tillable farm with Sparta soils. Center pivot irrigation system with a corner system unit. Tract 7 is flanked by B
...more
Lot # 8 (Sale Order: 8 of 8)
Grain bin tract- 6 grain bins with approximately 63,000 bu total storage on 5.22 acres m/l. 3 modern bins with good floors, heaters, LP tanks and unloaders provide over 5
...more