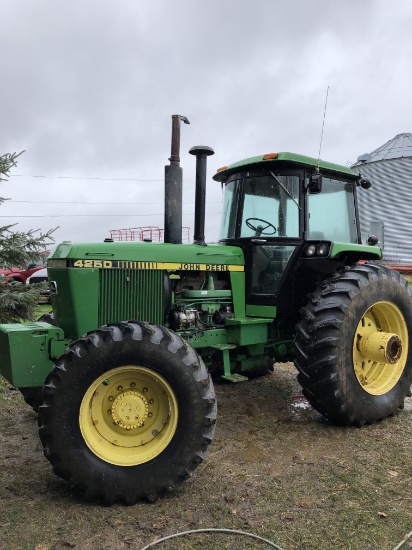 Farm Equipment/Retirement Auction
Saturday, April 24, 2021 | 10:00 AM Eastern
Auction closed.
Farm Equipment/Retirement Auction
Saturday, April 24, 2021 | 10:00 AM Eastern
Description
A nice, clean, mostly one owner farm retirement auction for William and Donna Andrews.

Tractors: JD 4250, 4wd, cab, weights, 7,522 hrs., 16.9x26, 20.8x38, has one axle dual and one snap-on; IH 756, cab, 6,504 hrs., 18.4x34, fast hitch, gas engine;

Tillage/Planting: Brillion SB71, 7-shank chisel plow; Krause 2200 RF, 14' transport disk, 12' cut, model 2234WR, light kit; Brillion ML1483 12' cultimulcher, light kit; Brillion 12' transport cultipacker, never used but weathered from sitting out; IH 12' transport disk; CIH 720 4-btm 18" plow; CIH 5300 grain drill, no grass, low use; Farm & Country 3-pt 24' sprayer LCR valve, new/never used; 3-pt fert./seed spreader;

Hay Equipment: NH 570 sq. baler, twine, #72 thrower; (2) H&S 9x18 hay wagons; metal portawagon 8x16; wood portawagon9x18; (3) 8x16 wood rack wagons; NH 1465 haybine, hyd. swing, light kit; Millerpro 1150 10' rotary rake, light kit; Hayrite 24' and 51' transport skeleton elevator, elec. motor; NI 36' hay/grain elevator pto drive; NH 166 merger window turner; GSI 21' 7-ring, 5500 bu bin,...
Show more
Show Less