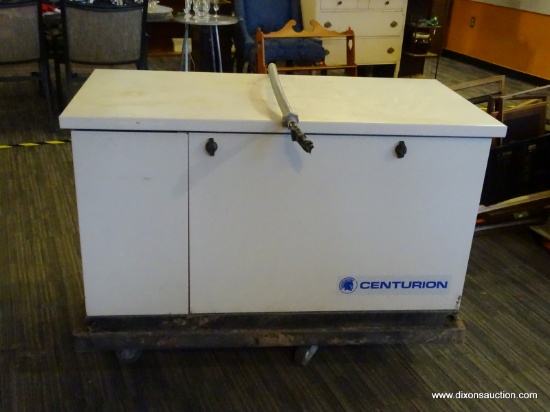 3/15/19 Online Centurion Home Generator Auction.
Bidding ends Friday, March 15, 2019 | 6:30 PM Eastern
Internet Premium:
18%
See Special Terms for additional fees
CENTURION AUTOMATIC STANDBY GENERATOR; THE TOP-SELLING HOME STANDBY GENERATOR PROVIDES BACKUP POWER TO A HOME'S ESSENTIAL CIRCUITS IN THE EVENT OF A POWER OUTAGE. THIS ITEM IS A CENTURION AUTOMATIC STANDBY 15K WATT AIR-COOLED GAS ENGINE GENERATOR, MODEL #04666, MADE BY GENERAC. INCLUDES INSTALLATION AND OWNER'S MANUALS, AS WELL AS ORIGINAL SPECIFICATIONS AND INFORMATION SHEETS. FEATURES: FULLY AUTOMATIC TRANSFER SWITCH WITH BUILT-IN EMERGENCY LOAD CENTER FOR EASY AND SAFE INSTALLATION AND USE, FUEL-EFFICIENT GENERAC (OHVI) ENGINE DESIGNED TO RUN BETTER FOR LONGER, ELECTRONIC IGNITION FOR SMOOTH AND QUICK STARTS EVERY TIME, HIGH TEMPERATURE AND LOW OIL PRESSURE SHUTDOWN SYSTEMS, AND MORE... ALL IN A COMPACT, VISUALLY APPEALING WEATHER PROTECTIVE ENCLOSURE. SPECIFICATIONS: 15,000 WATT RATED MAXIMUM CONTINUOUS POWER CAPACITY (LP), 120/240 RATED VOLTAGE, 65 AMP MAIN LINE CIRCUIT BREAKER, PHASE 1, 2 ROTOR POLES, 12 VOLT BATTERY WITH 525 COLD-CRANKING AMPERES MINIMUM. UL 2200 LISTED, MANUAL/AUTO/OFF OPERATING SWITCH. ENGINE SPECIFICATIONS: GENERAC OHVI V-TWIN WITH 2 CYLINDERS, 30 HP @ 3,600 RPM, COMPRESSION RATIO 9.5:1, 12V DC STARTER, APPROXIMATELY 1.7 QT OIL CAPACITY. UNIT MEASURES 47 IN WIDE X 24 IN DEEP X 28 IN TALL, WEIGHT IS APPROXIMATELY 487 LBS. NEW HOME GENERATORS OF SIMILAR SPECIFICATIONS AND QUALITY COMPARABLE TO THIS UNIT SELL FOR $2300 TO $5100. THE WEATHER IS UNPREDICTABLE, BUT PEACE OF MIND DOESN'T HAVE TO BE. BID NOW FOR YOUR CHANCE TO PROTECT YOUR HOME AND FAMILY WITH THIS TOP-OF-THE-LINE WHOLE HOME GENERATOR.