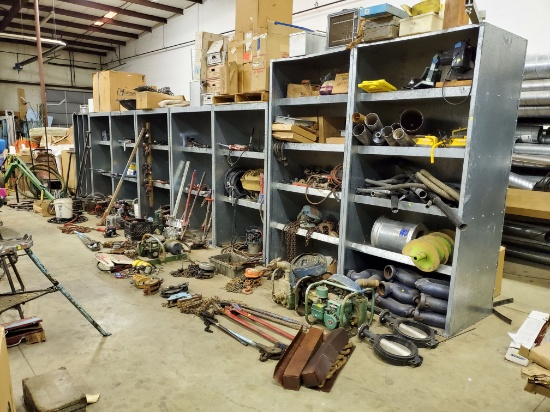 Southworth Mechanical Business Liquidation Sale #2
Lots start closing Tuesday, December 8, 2020 | 7:00 PM Eastern
Until lots start closing.
Southworth Mechanical Business Liquidation Sale #2
Lots start closing Tuesday, December 8, 2020 | 7:00 PM Eastern
Until lots start closing.
Description
Southworth Mechanical Corporation Business Liquidation Sale #2.

Heavy-Duty Job Boxes, Commercial Concrete Mixer, York International Hermetic Compressor, Peerless Gas Broiler System, Snow Champ Power Propelled Snow Thrower, Wooden & Aluminum Step Ladders, Red & Black Pallet Jack, Louisville Industrial Rolling Warehouse Ladder, Large Lots of Insulation, Misc. Brass/PVC Fittings/Pipes, Misc. Duct Work, Large Lot of Vintage Wooden Doors, Cast Iron Plumping Fixtures/Joints, Various Different Size V Drive Belts, Reeves Titekote Galvanized Steel Storage Racks, Misc. Plumbing Fixtures, Porcelain Toilets/Toilets, Stainless Steel Sinks, Combustion Research Co. Reflect-O-Ray Radiant Heating Systems, Coils of Misc. Copper, Hon Metal 4 Drawer Lateral File Cabinets, Construction A-Frame Signs, Airedale Condensing Units, Ridgid Tri-Stands, Vintage Lincoln Idealarc 250 Welding Machine, 4" Steel Strainers, Industrial Rolling Carts/4-Wheel Dollies, Magnaflux AC/DC Magnetic Particle Inspector, York Heat Pump Service Analyzer, Bacharach Fyrite Gas Analyzer, Landa Pressure Washer, Bell &...
Show more
Show Less