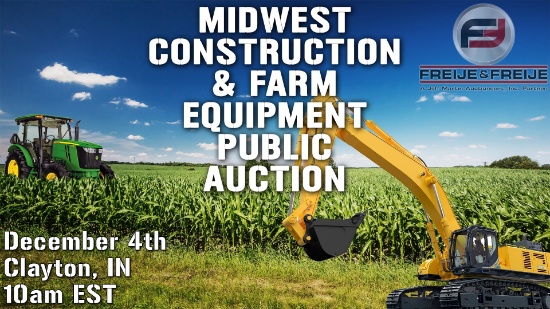 MIDWEST CONSTRUCTION & FARM EQUIP AUCTION RING 4
Saturday, December 4, 2021 | 1:00 PM Eastern
Auction closed.
MIDWEST CONSTRUCTION & FARM EQUIP AUCTION RING 4
Saturday, December 4, 2021 | 1:00 PM Eastern
Description
SATURDAY, DECEMBER 4TH @ 10 AM EST - HEAVY CONSTRUCTION EQUIPMENT, TRUCKS, TRAILERS, FARM TRACTORS, CARS, TRUCKS, MOWERS, SIDE BY SIDES AND MISC ITEMS FROM SEVERAL ESTATES

LIVE & ONLINE BIDDING

BUYER'S PREMIUM 10% ON FIRST $3500 AND 3% ON THE BALANCE CAPPED AT $5000 PER ITEM.

ONLINE BIDDERS WILL PAY AN ADDITIONAL 2% ONLINE BIDDING FEE.

ONLINE BIDDING DEPOSIT: $1000 DEPOSIT TO BID ONLINE

CONSIGNMENT DEADLINE: NOVEMBER 24TH @ 4 PM

INSPECTION DATES: MONDAY - FRIDAY 9AM – 4PM

ALL ITEMS MUST BE REMOVED BY FRIDAY, DECEMBER 17TH

ITEMS LEFT AFTER THIS DATE ARE SUBJECT TO STORAGE FEES UP TO $100 PER DAY.