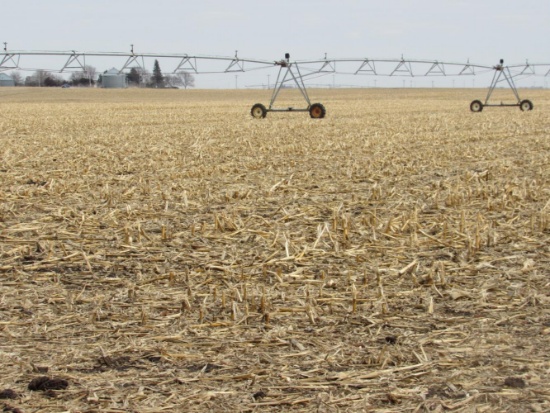 932 Irrigated Farmland in Nebraska
Thursday, April 2, 2020 | 10:00 AM Central
Auction closed.
932 Irrigated Farmland in Nebraska
Thursday, April 2, 2020 | 10:00 AM Central
Internet Premium:
Tiered
See Special Terms for additional fees
Description
We will be selling 7 parcels of irrigated Nebraska productive farm land spread over two counties on April 2. The buyer will receive possession of the land for the 2020 crop year.
This auction is being conducted by REMAX TOTAL REALTY INC of Columbus NE. RIck Grubaugh Broker and Auctioneer.
Buyers Premium for online purchase is 1% of saleprice with max of $5,000 per parcel.
Lot # 1 (Sale Order: 1 of 7)
Quantity: 234
Legal Description: SW ¼, W ½, NW ¼ Section 4 Township 15 N Range 1 East of 6th P.M. Butler Co, NE General Description: This 234 acre parcel is made up mainly of Hastin
...more
$

7,100.00

x 234 = $

1,661,400.00

Total
Lot # 2 (Sale Order: 2 of 7)
Quantity: 157
Legal Description: NW ¼ Section 8, Township 15 North Range 1 East of 6th P.M. Butler Co. NE General Description: This parcel is irrigated with a 10 Tower Zimmatic Pivo
...more
$

8,200.00

x 157 = $

1,287,400.00

Total
Lot # 3 (Sale Order: 3 of 7)
Quantity: 120
Legal Description: S ½, SW ¼ and SW ¼, SE ¼ Section 2 Township 15 North Range 1 West of the 6th P.M. Polk Co. NE General Description: Long 120 Acres irrigated by a 7 T
...more
$

7,300.00

x 120 = $

876,000.00

Total
Lot # 4 (Sale Order: 4 of 7)
Quantity: 160
Legal Description: SW ¼ Section 10, Township 15 North, Range 2 West of the 6th P.M. Polk Co. NE General Description: 160 acre relatively level parcel irrigated by 10 To
...more
$

6,200.00

x 160 = $

992,000.00

Total
Lot # 5 (Sale Order: 5 of 7)
Quantity: 160
Legal Description: NW ¼ Section 15, Township 15 N, Range 2 West of 6th P.M. Polk Co. NE General Description: 160 Acre relatively level parcel irrigated by 7 Tower Zimm
...more
$

5,700.00

x 160 = $

912,000.00

Total
Lot # 6 (Sale Order: 6 of 7)
Quantity: 80
Legal Description: W ½ NE ¼ Section 8, Township 16N Range 3 East of the 6th P.M. Butler Co NE General Description: Pivot irrigated farmland made up of Blended Muir Co
...more
$

4,000.00

x 80 = $

320,000.00

Total
Lot # 7 (Sale Order: 7 of 7)
Quantity: 71
Legal Description: E ½ SE 1/4, (Less Highway Row) Section 13, Township 16 North, Range 1 West of 6th P.M. Polk Co. NE General Description: 70.78 acre gravity irrigated
...more
$

3,750.00

x 71 = $

266,250.00

Total