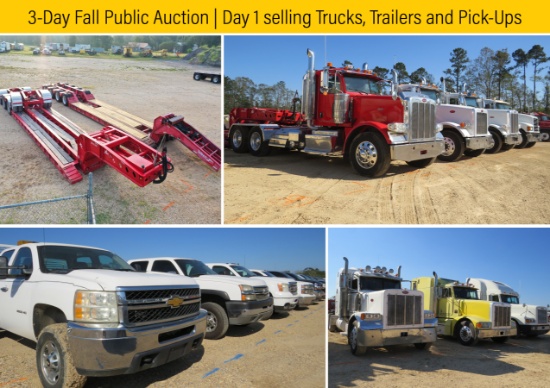 3-Day Fall Auction | October 14th | Day 1
Thursday, October 14, 2021 | 9:00 AM Central
Auction closed.
3-Day Fall Auction | October 14th | Day 1
Thursday, October 14, 2021 | 9:00 AM Central
Description
Selling Heavy Equipment, Trucks, Trailers, Farm Equipment and Tractors, ATVs, UTVs, Campers, Boats and More!! See our other catalogs for construction, farming, marine and vehicle lots. Lot order is as follows: Lots 1-1999 Selling on Day 1 (October 14th, 9am CT), Lots 2000-2999 & 4000-4500 Selling Day 2 (October 15th, 9am CT), Lots 3000-3999 Selling Day 3 (October 16th, 9am). If you have any questions please call 225-686-2252 or 800-850-2252.