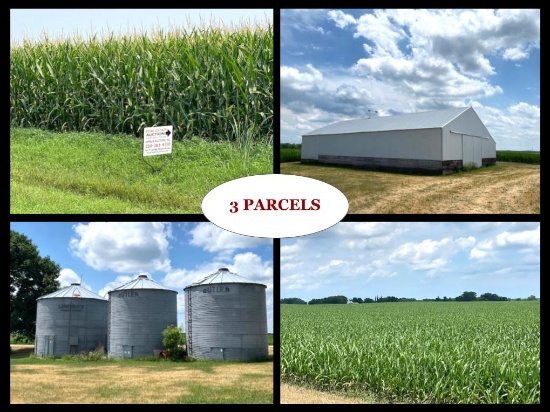 EMIL COUDRON PRIME LYON CO. LAND AUCTION
Friday, September 3, 2021 | 11:00 AM Central
Auction closed.
EMIL COUDRON PRIME LYON CO. LAND AUCTION
Friday, September 3, 2021 | 11:00 AM Central
Internet Premium:
6%
See Special Terms for additional fees
Description
320 Acres of Prime Lyon Co. Farm Land and Building Site Located in Three Parcels, Stanley Twp, Sections 22 & 23, Lyon County.
Lot # 0 (Sale Order: 1 of 4)
Thank you for participating in the EMIL COUDRON PRIME LYON CO. LAND AUCTION

320 Acres of Prime Lyon Co. Farm Land and Building Site Located in Three Parcels, Stanley Twp, Sections 22 & 23, Lyon County.
MARSHALL, MN

A 6% buyer's premium will apply to this sale.

Auction Location:
Cottonwood Community Center
142 W Main St.,
Cottonwood, MN 56229

Auction will be sold in 3 parcels.

**Any Items left on property at closing will be the new buyers responsibility

***New Buyer on Building Site will be responsible for the inspection, repair and/or replacement of septic system and/well if necessary

***Property sells "AS IS" without any warranties expressed or implied, including no warranties of merchantability or fitness for any particular purpose.

Closing Date Shall be on or before November 16th, 2021

Parcels will be offered individually on every round until the bidding stops on all parcels. One bid advancement on one parcel will allow the auction company to offer all parcels again in the next round. Parcels will not to combined together in different combinations or as an entirety. If the buyer wants to purchase all parcels, said buyer must have the top accepted bid on all parcels. Bidding Number and Price will be written down and recorded per parcel and per round. Sellers reserve the right to accept or reject any and all bids on individual parcels and/or all parcels.

On the Proxibid platform, lot will show as "Passed" when the bid is being held between each round. Auction company reserves the right to open lots back up at any time until all parcels are announced as sold and auction is closed. Please listen to the audio stream to stay up to date on each round of bidding.

On the Proxibid platform, fractioned quantities are not allowed to be used. Quantity reflects the rounded up acreage of each parcel. The Proxibid multiplier is for your quick math convenience only. Final sale will reflect the actual acreage quantity as announced by the auctioneer.

Immediately following the auction, the successful bidder will be required to sign a purchase agreement following the auction.


Sellers will provide a clear and marketable title. Sellers will pay usual sellers costs, state deed tax and deed preparation. Buyers will pay the usual buyer costs, such as title insurance/title opinion, recording fee for the deed and all cost associated with the financing of the purchase. No Contingencies will be allowed from the buyer on this real estate transaction

Sellers reserve the right to accept or reject any and all bids.

6% Buyer's Premium will apply to the final accepted bid and will be added to equal full contract price.

Closing:

Henslin Auctions, Inc., Henslin Real Estate and Land, LLC. Brokerage and their agents represent the sellers and sellers alone in this transaction.

1031 Language will be allowed to be added to the purchase agreement.

Any Announcements made at the auction, whether verbal or written from the Proxibid Agent will take precedence over any and all written material. The information in this brochure is believed to be accurate; however, no liability for its accuracy, errors or omissions is assumed. All lines drawn on maps, photographs, etc. are approximate. Buyers should verify the information to their satisfaction. There are no expressed or implied warranties pertaining to the property. This real estate is being sold "as is". Buyers are purchasing the property as-is, where-is with no warranties or guarantees expressed or implied.

By placing a bid, you the buyer are agreeing to all the above terms and are legally obligated to fully execute the agreement.

Please see full auction terms tab for the complete list of terms you agree to by bidding on this auction.

Lot # 1 (Sale Order: 2 of 4)
Quantity: 160
$

10,250.00

x 160 = $

1,640,000.00

Total
Lot # 2 (Sale Order: 3 of 4)
Quantity: 154
$

9,200.00

x 154 = $

1,416,800.00

Total
Lot # 3 (Sale Order: 4 of 4)
Building Site has been surveyed
Property Inspection Date: Friday, August 27th 12:00-1:00 P.M.
House: Approx 20' x 46' -Steel Siding
S.W. Building: 30' x 40', Steel & Wood Siding, Steel Roof
South Building: 25' x 32', Steel & Wood Siding, Steel Roof
Approx 6,000 Bu of Grain Storage in 4 Bins
East Machine Shed: 46' x 76', Approx 21' Opening on South Side, 16' x 10' Door, Steel Roof, Steel & Wood Siding
Center Quonset: 38' x 60', Steel Roof
Granary: 22' x 24', Cement Floor
Single Stall Granary: East of House, 24' x 32' (2) Overhead Doors--8'8" & 10'8" Wide, Steel Roof
Parcel 3 Inspection.pdf
Parcel 3 Water.pdf
Tax Statement.pdf