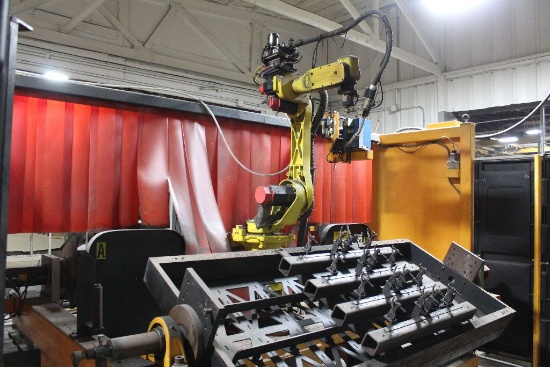 Conveyor Manufacturer, Construction
Tuesday, December 17, 2019 | 9:00 AM Central
to bid until the live auction begins!
Description
CONVEYOR MANUFACTURER and INVENTORY
AUCTION
ABCO MANUFACTURING CO.
801 2ND AVE.
OELWEIN, IA

TUESEDAY, Dec. 17, 9:00 AM (cst): Construction & Manufacturing Equipment

AUCTIONEER NOTE: Business is relocating. All items must be removed by Tuesday, Dec. 31 by 3:30 pm. Bring your trucks and trailers!!

FEATURING:
CONSTRUCTION EQUIP.:
GROVE CRANE: model RT58/58A / ALL TERRAIN LIFT: Pettibone Super 154A / White TRACTOR BACKHOE / PICKUP: 1992 Ford F Super Series, 4 speed, manual trans., 2 wd / DOLLY: Tandem axle 5th wheel.

MANUFACTURING EQUIP.:
WIRE WELDING ROBOT: Genesis Versa RC3L / IRON WORKER: Dvorak model 3253A / MILLS: Wells Index model 847; Rambaudt I mill, model M / PRESS BRAKE: Pacific J-series, model J225-14H / PUNCH: Whitney WAW portable / BANDSAW: Omada automatic horizontal model H-650HD / CUTTING MACHINE: Airco ServoGraph model 4806 / RADIAL ARM DRILL / DRILL PRESSES / Hercules hyd. SHEAR / (7) GRINDERS / (2) H-FRAME PRESSES / WELDING: (6) Welders; Plasma cutter; Torch carts / OTHER SHOP EQUIP.:...
Show more
Show Less