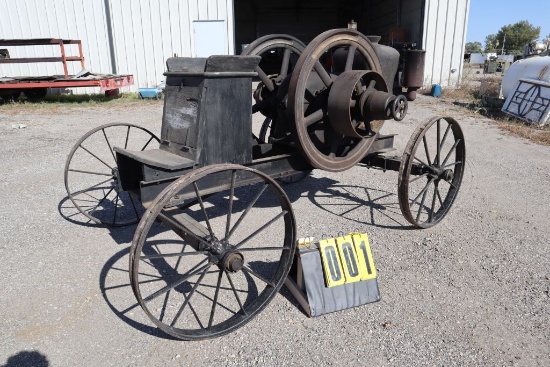 Gas Engines and Other Assets
Lots start closing Tuesday, January 26, 2021 | 11:00 AM Central
Until lots start closing.
Gas Engines and Other Assets
Lots start closing Tuesday, January 26, 2021 | 11:00 AM Central
Until lots start closing.
Description
ANOTHER HILPIPRE
AUCTION
GAS ENGINES and OTHER ASSETS
TIMED ONLINE BIDDING ONLY
BIDDING NOW OPEN
BIDDING ENDS – TUES., JAN. 26, 2021

GAS ENGINES
Sandwich, 6 hp, No. H29213, mounted on steel wheel horse drawn carriage.
McCormick Deering, 3 hp, No. W14956, on steel wheel cart.
Stovers, 1 1/2 hp, model K, No. KE242746.
International Harvester, 1 1/2-2 1/2 hp, No. AA27006.
McCormick Deering, 1 1/2 to 2 1/2 hp, No. A5976, (has International Harvester ID tag).
John Deere gas engine, Type E, 1 1/2 hp, No. 321398, on steel wheel truck.
John Deere gas engine, Type E, 1 1/2 hp, No. 317074.
Witte 1 1/2hp, w/ sawmill No. B6384, on two wheel pull carriage. (incomplete)
Scale gas engine on steel wheel truck w/generator, fuel tank.

FOOT HAMMER
1903 Hawkeye belt driven.

PEDAL CARS
Champion blue, gear box.
Champion pink, gear box.

SEWING MACHINE
Vintage Singer cobbler, #28-4.

BIKE
John Deere toddlers, Like New!

SNOWBLOWER
MTD 4.5/21, 2...
Show more
Show Less
No lots have closed yet for this auction.

Closed Lots