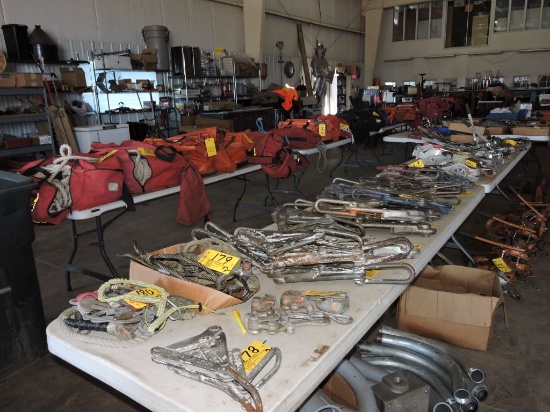 Tower Erecting and Tree Removal Equipment
Tuesday, August 23, 2022 | 8:30 AM Central
to bid until the live auction begins!
Tower Erecting and Tree Removal Equipment
Tuesday, August 23, 2022 | 8:30 AM Central
to bid until the live auction begins!
Description
LARGE QUANTITY OF TOWER ERECTING AND TREE REMOVAL SUPPORT EQUIPMENT



ANOTHER HILPIPRE
AUCTION
TOWER ERECTING and TREE REMOVAL EQUIPMENT
Tuesday, August 23 – Beginning at 8:30 am

LIVE Virtual webcast bidding (NO onsite bidding)

AUCTIONEEERS NOTE: Don't Miss this Auction. Items are located at our facility, 2862 Wagner Rd., Waterloo, IA. No onsite bidding. The auctioneer will call the auction live via webcast bidding.

VIEWING: Friday, August 19: 9:00 am to 4:00 pm or by appointment.

ROPE Over 14,000 ft. of Repelling, Safety, and Yard.

GENERAL SUPPORT: Cable pullers; Clevises; Safety cones; Shovels; Spades, Rakes; Other.

SHOP: Millermatic welder; Various tools; (50) Ladders: Louisville, Werner, Keller, Various styles; (5) Capstan Elec. Hoists; Magna chain hoists, 3 & 6 T.; Lateral file cabs.

(2) 25 foot SHOP TRAILERS: Equipped with electrical hookups, tool boxes, work benches and racking.

LARGE QTY. INVENTORY

SEE COMPLETE TERMS AND CONDITIONS IN...
Show more
Show Less