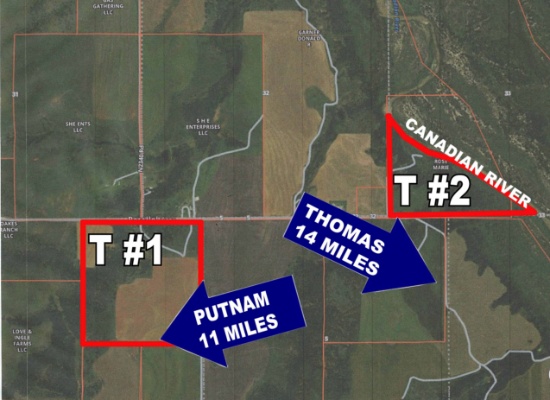 235 Ac. Dewey Co. Farm & Grassland and Minerals
Thursday, August 25, 2022 | 10:00 AM Central
Auction closed.
235 Ac. Dewey Co. Farm & Grassland and Minerals
Thursday, August 25, 2022 | 10:00 AM Central
Internet Premium:
5%
See Special Terms for additional fees
Description
235 Ac. Dewey County, OK Farm & Grassland East of Putam, OK to be sold in 2 tracts and Minerals to be offered in 50 Ac. Tracts
EXCELLENT HUNTING LAND!!
Lot # 3 (Sale Order: 3 of 8)
Quantity: 50
147.96 NMA – Open as of Record in S6-T16N-R15, W.I.M. Dewey Co., OK To be sold by the acre To be offered in approx. 50 ac. tracts
$

1,500.00

x 50 = $

75,000.00

Total
Lot # 3B (Sale Order: 4 of 8)
Quantity: 50
147.96 NMA – Open as of Record in S6-T16N-R15, W.I.M. Dewey Co., OK To be sold by the acre To be offered in approx. 50 ac. tracts
$

1,275.00

x 50 = $

63,750.00

Total
Lot # 3C (Sale Order: 5 of 8)
Quantity: 48
147.96 NMA – Open as of Record in S6-T16N-R15, W.I.M. Dewey Co., OK To be sold by the acre To be offered in approx. 50 ac. tracts
$

1,275.00

x 48 = $

61,200.00

Total
Lot # 4 (Sale Order: 6 of 8)
Quantity: 40
83.9 NMA – Open as of Record in SW ¼ of S33-T17N-R15, W.I.M., Dewey Co., OK To be sold by the acre to be offered in approx. 40 ac tracts
$

1,750.00

x 40 = $

70,000.00

Total
Lot # 4B (Sale Order: 7 of 8)
Quantity: 44
83.9 NMA – Open as of Record in SW ¼ of S33-T17N-R15, W.I.M., Dewey Co., OK To be sold by the acre to be offered in approx. 40 ac tracts
$

1,750.00

x 44 = $

77,000.00

Total
Lot # 5 (Sale Order: 8 of 8)
Quantity: 10
10 NMA - Dewey County - NW/4 of 12-16-17, Open as of record
$

3,425.00

x 10 = $

34,250.00

Total