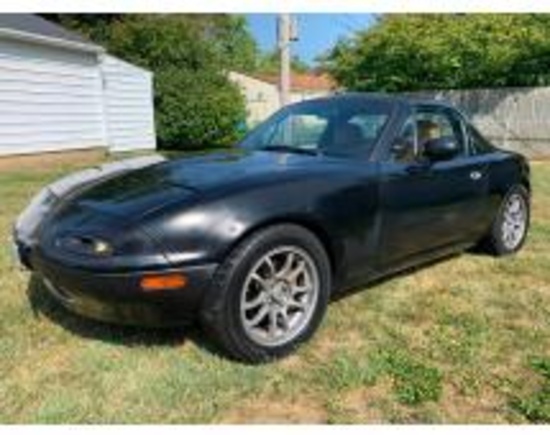 Online Only Auction of 1994 Mazda Miata MX-5
Bidding ends Sunday, October 4, 2020 | 6:00 PM Eastern
Auction closed.
Online Only Auction of 1994 Mazda Miata MX-5
Bidding ends Sunday, October 4, 2020 | 6:00 PM Eastern
Description
This is the estate of Barry Black by Robert Carico, Executor, Montgomery County Ohio, Probate #2020EST00917. This is an interesting car. It appears to have many modifications! You are buying it as-is! We encourage potential buyers to preview the vehicle! This is an online only auction! Contact The UPS Store at 937-754-9999 if you want items shipped. Items may also be picked up at scheduled removal, check terms for date and times!
Year: 1994
Make: Mazda
Model: MX-5 Miata
Vehicle Type: Passenger Car
Mileage: 92030
Plate:
Body Type: 2 Door Convertible
Trim Level: Base
Drive Line: RWD
Engine Type: L4, 1.8L
Fuel Type: Gasoline
Horsepower:
Transmission: Standard Shift
VIN #: JM1NA3532R0502111

Features and Notes: This is a standard shift vehicle. It has an after market radio system. It has a Moshimoto Radiator and appears to have a good deal of modifications!! The executor and daughter tell us that it has some motor upgrades and the decedent expressed to them that is has 200HP. e have no way to confirm that other than putting it on a dyno and we are not going to do that. You are buying it as you see it in the condition it is currently shown. It is a 1994 and shows wear as such. The interior has some rips and tears in the the seat. It is a hard top convertible and comes with a stand for the top when it is removed. The decedent really enjoyed the vehicles and it has been driven. The paint is a bit rough. The front fenders appear to almost be a black primer. It has several dents and dings. We have tried to photo them in the listing. The most prolific dents are on the hood, front driver fender and trunk area on driver's side of car. It is a standard shift and would be a lot of fun to drive!! We will have a preview on Monday, September 28th from 4-5PM. Private viewings can be arranged by calling 937-847-8300. We are selling this vehicle as you see it in the condition you see it. All sales are final and car is selling as-is!! All specs in listing are from VIN Number. It does not take into account any upgrades done the the car or motor. We obviously have no way to ask the former owner about upgrades to vehicle. We are not mechanics and really encourage a preview of this vehicle.