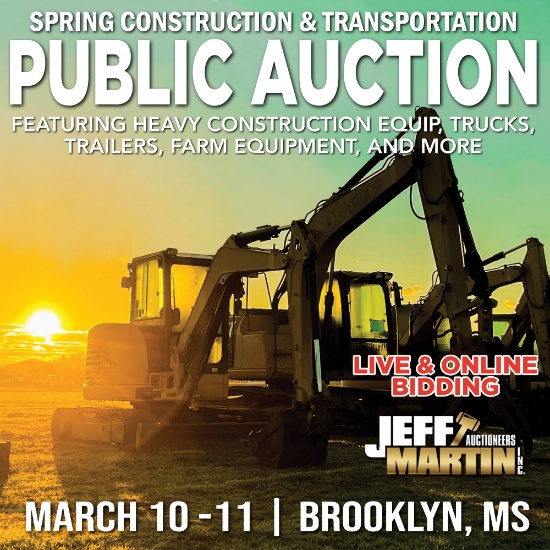 D1R1 EARLY SPRING CONSTRUCT & TRANSPORT ACTION
Friday, March 10, 2023 | 9:00 AM Central
Auction closed.
D1R1 EARLY SPRING CONSTRUCT & TRANSPORT ACTION
Friday, March 10, 2023 | 9:00 AM Central
Description
FEATURING HEAVY CONSTRUCTION EQUIPMENT, TRUCKS, TRAILERS, FARM EQUIPMENT, VEHICLES AND MISC. ITEMS

LIVE & ONLINE BIDDING

FRIDAY, MARCH 10TH 9:00AM CST

DAY 1 RING 1 – FEATURING- CONSTRUCTION EQUIPMENT AND TRUCKS- 9AM CST

DAY 1 RING 2 – FEATURING- TRAILERS, INOP 9:30AM CST


SATURDAY, MARCH 11TH 9:00AM CST

DAY 2 RING 1- FEATURING- CARS, LIGHT DUTY TRUCKS, AUTOMOTIVE INOP- 9AM CST

DAY 2 RING 2- FEATURING- ATV'S, FARM TRACTORS & FARM EQUIPMENT, FARM INOP 9:30AM CST

BUYER'S PREMIUM 10% ON FIRST $3500 AND 3% ON THE BALANCE CAPPED AT $3500 PER ITEM. 10% BUYER'S PREMIUM ON ANY ITEM NOTATED AS ***MDOT*** IN THE ITEM DESCRIPTION.

ONLINE BIDDERS WILL PAY AN ADDITIONAL 2% ONLINE BIDDING FEE.

ONLINE BIDDING DEPOSIT: $1000 DEPOSIT TO BID ONLINE

THIS IS PROCESSED AS A HOLD ON YOUR CREDIT CARD AND IS RELEASED IF NO PURCHASE IS MADE.

IF A PURCHASE IS MADE THE HOLD WILL BE APPLIED TO YOUR BALANCE DUE.

IF YOU PAY WITH ANOTHER PAYMENT METHOD THE FUNDS...
Show more
Show Less