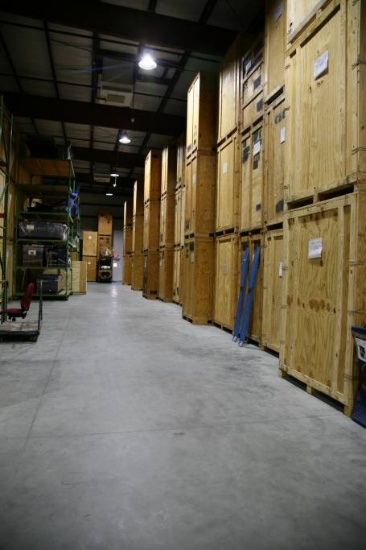 ABANDONED STORAGE VAULTS- REPUBLIC MOVING
Lots start closing Saturday, February 22, 2020 | 10:00 AM Pacific
Until lots start closing.
ABANDONED STORAGE VAULTS- REPUBLIC MOVING
Lots start closing Saturday, February 22, 2020 | 10:00 AM Pacific
Until lots start closing.
Internet Premium:
17%
See Special Terms for additional fees
Cash Payment Discount:

4%
Call before bidding with questions 619-297-7356.
Auction Location: 3465 Citrus St. Lemon Grove, Ca. 91945
Payments are not charged automatically, Buyers are fully responsible for paying their invoice.
Buyer's Premium and Sales Tax:
There is a 17% Buyer's Premium in effect for this auction. 4% Discount when paying with Cash. Location-based sales tax will also be collected for this auction.
How to Pay Your Invoice:
Credit cards on file with Proxibid, Cash or Wire/bank transfers. No personal/business checks. Credit Card payments are not allowed on purchases of more than $1,500 or less than $10.00
REMOVAL INFORMATION:
Bring Copy of PAID Invoice
Pickup Schedule: Monday February 24 2020 10:00 am to 3:00 pm
Buyers are responsible for all aspects of removal. All items remaining after this specified time are considered abandoned and forfeited, with no further rights by the Buyer.
Authorization Form:
If someone other than yourself is picking up your auction purchases, please contact our office for authorization.
Resale #?s
please contact our office before bidding.
IMPORTANT AUCTION INFORMATION
All items are sold 'as-is' and 'where-is' with no warranties expressed or implied. Bidders or their Agents are responsible for insuring they received all their items. No claims of any kind shall be allowed after Item has been removed by the Buyer or item has been signed for after time of removal. There are no refunds or exchanges. Employees are unable to assist with physical loading. Bidders are bound by all terms and conditions of this auction when the first bid is placed, therefore, Bidders should not participate in the auction if they cannot comply with the stated auction terms. Please bid accordingly.
$100 Bid Hold:
A $100.00 hold will be placed on your card when you place your first bid for this auction. If payment is defaulted on, the credit card hold will be applied towards a relisting fee.
Soft Close Auction:
If a bid is placed within the last minute of an auction lot's scheduled closing time, an automatic extension of 1 minute will be added to the auction lot's scheduled closing time. The auction lot will close once it has reached its scheduled closing time and no additional bids have been placed within the last minute.
Thank you for Bidding
Joe Bradley Auctioneers Inc.
o: 619-297-7653
e:
joe@joebradley.com
w: JBAuctions.com
NO RESERVE AUCTION
A $100.00 dls refundable guarantee deposit will be required to bid. Deposit will be a credit card deposit. It is your responsibility to have all information through Proxibid current. . .
Items will not be released without confirmation of payment.
You will forfeit deposits and items if not pickup on time. A $25.00- $50.00 disposal fee will be added per lot or delinquent Credit Card payments.
We will refund your $100.00 guarantee deposit once we have received confirmation that you have paid and picked up all of your items.

NO SHIPPING ALLOWED FOR THIS AUCTION, LOCAL PICK UP ONLY!!

WE HAVE MINIMAL HISTORY ON THE ITEMS BEING OFFERED. EVERYTHING IS SOLD "AS IS" "ALL SALES ARE FINAL".
NO MENTION OF DEFECTS DOES NOT MEAN THEY'RE AREN'T ANY. JBA DOES NOT SHIP. THANK YOU AND HAPPY BIDDING :)

Buyer must take complete contents of boxes with the exception of moving pads, There are No trash bin's on site, Vaults / pads not included (office purposes Princess Hardwell  )

Buyer must take complete contents of box with the exception of moving pads, There are No trash bin's on site, Vaults / pads not included (office purposes Ryan Rapanot)

Buyer must take complete contents of vault with the exception of moving pads, There are No trash bin's on site, Vaults / pads not included (office purposes Bell Miranda )

Buyer must take complete contents of vault with the exception of moving pads, There are No trash bin's on site, Vaults / pads not included (office purposes Mims)

Buyer must take complete contents of vault with the exception of moving pads, There are No trash bin's on site, Vaults / pads not included (office purposes Winn)

Buyer must take complete contents of vault with the exception of moving pads, There are No trash bin's on site, Vaults / pads not included (office purposes Price)

Closed Lots