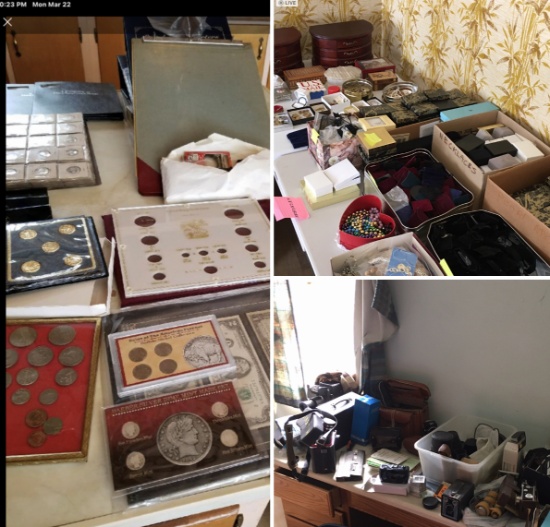 Coins, Camera's, Jewelry, Watches WITH NO RESERVE
Auction closed.
Coins, Camera's, Jewelry, Watches WITH NO RESERVE
Internet Premium:
0% - 17%
See Special Terms for additional fees
Cash Payment Discount:

4%
Description
IRENE HAAG ESTATE I - Spring Valley 91977 Ca. Estate, UP FOR AUCTION, A HUGE COLLECTION OF SILVER U.S COINS 1800's to the 2000's Grandfather clock made in Germany Hermle Black Forest 451050H, Diamond ring size 6, 94cm,Platinum Ring - Diamond & Emeralds size 5,10K Gold Pearl Ring size 6, Men's Diamond Cufflinks set stamped with 18KT, 10k Gold size 8 1/2 men's ring, Stamped 1941, gold with onyx , size 5 1/2 men's ring, Posters, Yaesu Rge Radio Amateurs World map and Dow Jones Industrial 1896- present, Teledyne Ryan 6) Supersonic Target 6) Viking aircraft & 6) large posters, Olaf Wieghorst 12" x 12" prints. 4) Scouting Party 1) Apache Country 1) Reward sign, Vintage slide boxes, Vintage movie reel chests with assorted used film, Vintage Yashica UP camera with case, Vintage Fairchild Cinephonic Eight movie camera with accessories, Vintage Kodak stereo and Argus Cintar cameras,Vintage Kodak: Instamatic, Duaflex, Ektanar Lens, Brownie Super 27, cameras, Kodak Projection Ektanon lens, Vivitar Series lens 1, Vintage Movie Camera's TDC Schoolmate 500 model 124 & miniature...
Show more
Show Less