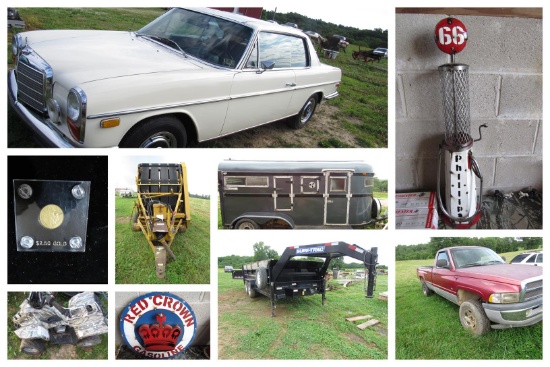 Farm Equipment, Vehicles, Tools, Coins, & more
Lots start closing Thursday, August 6, 2020 | 5:00 PM Eastern
Until lots start closing.
Farm Equipment, Vehicles, Tools, Coins, & more
Lots start closing Thursday, August 6, 2020 | 5:00 PM Eastern
Until lots start closing.
Description
ITEMS OF INTEREST: 1972 Mercedes, 1998 Dodge Ram 1500 4x4, 1976 Mercury Marquis, 2003 Chevy 4x4, 2000 Chevy Blazer, 2018 Dump Trailer 16ft, 2019 16 Ft Utility Trailer, Livestock Trailer, Horse Trailer, 2006 Utility Trailer 5x10 20218 Utility Trailer, Zero Turn Mower, Boat And Trailer, Lots Of Farm Equipment, Round Balers, Square Baler, Hay Rakes, Trailers, Tools, Post Hole Digger, Gas Powered Wheel Barrow, Tiller, Push Mowers Vises, Horse Tack, Farm Gates Carroll Panels, Goat And Sheep Work Shute, Feeders, Fortixflex Buckets, Fortex Rubber Feed Pans, Bush Hogs, Pipe, Potato Grader, Gas Pumps, Signs, Coins, Pockets Watches, Cast Iron, Fuel Tank, Tomato Cages, Chain Saws, Shelfs, Tables And Chairs, Gold Coins, Go Cart, 4 Wheelers, Ladders, Air Compressor, Pressure Washer, Welder, Ammo, Generator ,Scaffolding, And Lots More!