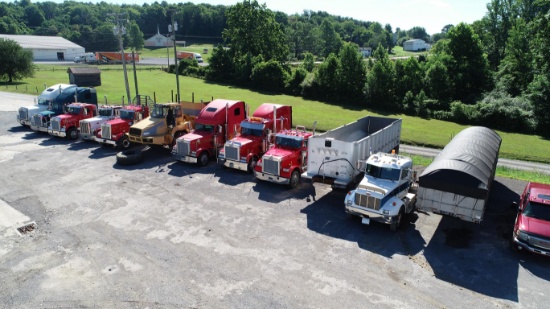 Sawmill Equipment, Trucks, Heavy Equipment, & more
Thursday, September 17, 2020 | 9:30 AM Eastern
Auction closed.
Sawmill Equipment, Trucks, Heavy Equipment, & more
Thursday, September 17, 2020 | 9:30 AM Eastern
Description
Randy Dalton Sr. of Dalton INC. is downsizing his operations and has given us the opportunity to take equipment to auction on Thursday, September 17th.

50x60 Metal Building - Buyers responsible for removal
14' Door Height 21' Eave Height

Rolling Stock
2006 Freightliner Tri-Axle Classic XL 550HP Cat Engine 50K Miles*
Freightliner Classic XL 500HP 898K Miles
Freightliner Classic XL 515HP Detroit Engine 284K Miles
2005 Peterbilt 500 Cat Engine 608K Miles
2016 Kenworth W900 Logging Truck 550 Cat Engine 40K Miles*
2001 Kenworth T800 Tri-Axle Steel Dump 8-speed Transmission 341K Miles
2003 Freightliner Classic XL 500 Detroit Engine 654K Miles
2011 Freightliner Tri-Axle Truck 515 Detroit Engine 99K Miles
2001 Peterbilt Cat 300 Engine 566K Miles
2013 Ford F-350 Super Duty Lariat 62K Miles VIN#37956
2003 Ford F150 XL Half Ton Parts Truck 161K Miles VIN #A81834
2011 Chevy Equinox LT AWD 190K Miles
2006 GMC 2500HD Duramax Allison Transmission 147K Miles VIN #182114
24ft Supreme Box Truck w/ Lift...
Show more
Show Less