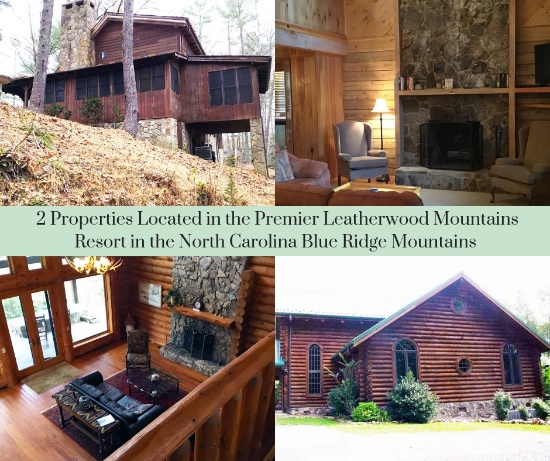 2 NC Custom Cabins in Leatherwood Mountain Resort!
Monday, January 21, 2019 | 12:00 PM Eastern
Internet Premium:
7%
See Special Terms for additional fees
Description
Two gorgeous log cabins being offered at auction! Leatherwood Mountain Resort is a gated community with a full service equestrian center, on-site fishing, hiking, tennis, swimming, and more!
Lot # 2 (Sale Order: 1 of 2)
Home Style:

Log house
Year Built :

2004
Beds:

3 +
Baths:

3 +
Basement:

Finished
Lot Size:

55.96 acres
Sq. Feet:

3847
Heat:

Heat Pump
Air:

Central
Property Location - County:

Wilkes
Property Location - State:

North Carolina
Fireplaces:

1
Garages:

1 car
552 Fox Cove, Ferguson NC 28627 This stunning custom built log home in Leatherwood Mountain Retreat has gorgeous mountain views with an open floor plan with a gourmet kitchen and great room combined with an impressive stone fireplace that goes from the floor to the top of the vaulted ceiling with exposed wood beams! The upper level loft features a vast open media/sitting area and another full bathroom. Downstairs is a large carpeted game room, laundry room, and access to the 1 car garage as well as a walk out to the HOT TUB on the back patio. This home would make a great retirement location or a magnificent mountain retreat for entertaining the entire family! The home is being offered with all of the existing furnishings including some gorgeous paintings, bronzes, and lots more! It is being sold with two adjoining lots totaling 55.96 acres, including a pond! Total square footage: 3847 PIN 2877-69-4647 home and 10.45 acres PIN 2877-79-3722 35.83 acres PIN 2877-70-0380 9.68 acres Property Tax Value: $1,049,330 Wilkes County NC and Ferguson Fire Department Total Tax Rate: .77 Leatherwood Mountain Property Owners Association annual fees: $3328 Leatherwood Mountain Resort is a gated community with a full service equestrian center, on-site fishing, hiking, tennis, swimming, and more! Please call Jimmy Johnson (Broker/Owner/Auctioneer) with any questions (919) 639-2231
552 Fox Cove, Ferguson NC 28627 This stunning custom built log home in Leatherwood Mountain Retreat has gorgeous mountain views with an open floor plan with a gourmet...more kitchen and great room combined with an impressive stone fireplace that goes from the floor to the top of the vaulted ceiling with exposed wood beams! The upper level loft features a vast open media/sitting area and another full bathroom. Downstairs is a large carpeted game room, laundry room, and access to the 1 car garage as well as a walk out to the HOT TUB on the back patio. This home would make a great retirement location or a magnificent mountain retreat for entertaining the entire family! The home is being offered with all of the existing furnishings including some gorgeous paintings, bronzes, and lots more! It is being sold with two adjoining lots totaling 55.96 acres, including a pond! Total square footage: 3847 PIN 2877-69-4647 home and 10.45 acres PIN 2877-79-3722 35.83 acres PIN 2877-70-0380 9.68 acres Property Tax Value: $1,049,330 Wilkes County NC and Ferguson Fire Department Total Tax Rate: .77 Leatherwood Mountain Property Owners Association annual fees: $3328 Leatherwood Mountain Resort is a gated community with a full service equestrian center, on-site fishing, hiking, tennis, swimming, and more! Please call Jimmy Johnson (Broker/Owner/Auctioneer) with any questions (919) 639-2231
Lot # 1 (Sale Order: 2 of 2)
Year Built :

1991
Home Style:

Log house
Beds:

4 +
Baths:

5 +
Basement:

Finished
Lot Size:

2.41 acres
Sq. Feet:

4285
Heat:

Electric
Air:

Central
Property Location - County:

Wilkes
Property Location - State:

North Carolina
Fireplaces:

4
548 Holleridge Rd., Ferguson NC 28627 Located in the desirable Leatherwood Mountain Resort, this large log home has 4 bedrooms, 5 baths, TWO kitchens and FOUR fireplaces! The home includes a large family room with a gorgeous stone wood-burning fireplace, a finished basement with a game room, and a main level master suite with his and her bathrooms plus a sitting room with fireplace. Settled in the scenic mountains of North Carolina, it has a 2.4 acre lot and a huge rocking chair front porch with breath-taking views. The large area in the rear of the house has an impressive stone grill for outdoor cooking and a heated in ground swimming pool. The home is being offered with all of the existing furnishings. Total square footage: 4285 PIN 2867-65-5183 Property Tax Value: $502,570 Wilkes County NC and Ferguson Fire Department Total Tax Rate: .77 Leatherwood Mountain Property Owners Association annual fees: $1664 Leatherwood Mountain Resort is a gated community with a full service equestrian center, on-site fishing, hiking, tennis, swimming, and more! Please call Jimmy Johnson (Broker/Owner/Auctioneer) with any questions (919) 639-2231
548 Holleridge Rd., Ferguson NC 28627 Located in the desirable Leatherwood Mountain Resort, this large log home has 4 bedrooms, 5 baths, TWO kitchens and FOUR firepla...moreces! The home includes a large family room with a gorgeous stone wood-burning fireplace, a finished basement with a game room, and a main level master suite with his and her bathrooms plus a sitting room with fireplace. Settled in the scenic mountains of North Carolina, it has a 2.4 acre lot and a huge rocking chair front porch with breath-taking views. The large area in the rear of the house has an impressive stone grill for outdoor cooking and a heated in ground swimming pool. The home is being offered with all of the existing furnishings. Total square footage: 4285 PIN 2867-65-5183 Property Tax Value: $502,570 Wilkes County NC and Ferguson Fire Department Total Tax Rate: .77 Leatherwood Mountain Property Owners Association annual fees: $1664 Leatherwood Mountain Resort is a gated community with a full service equestrian center, on-site fishing, hiking, tennis, swimming, and more! Please call Jimmy Johnson (Broker/Owner/Auctioneer) with any questions (919) 639-2231