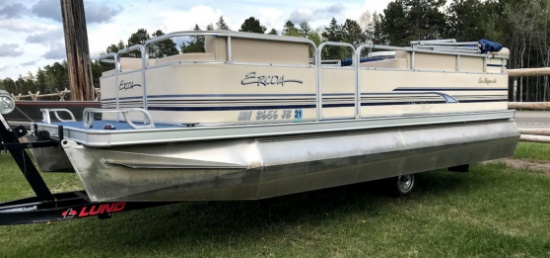 Spring Sporting Consignment
Auction closed.
Spring Sporting Consignment
Description
SPRING EQUIPMENT &
SPORTING ONLINE CONSIGNMENT AUCTION

Opens May 23rd- Closes May 30th
17572 State 34, Hwy #34
Park Rapids, MN East 1 mile.

JokelaAuction.com

Equipment/Machinery: JD 440C Skidder with chains; Gehl 4610 diesel skidsteer, Bobcat grapple; Ford 3Pt Backhoe; Bobcat single tree spade; Yanmar "2700YM" diesel tractor, 27HP, with Yanmar "2069" dual hydraulic loader, 52" bucket; 3Pt. PS, 392 hours, excellent rubber; Glencoe 18' digger with Lindsay attachments; Ford Ferguson 7' 3Pt digger; HD 8' 3Pt rear angle blade, adjustable; Ford 3Pt Backhoe attachment; Boats: Ercoa Sun Skipper 18' pontoon, Evinrude 40HP OB, Lund trailer; Alumacraft Lunker V16 LTD boat, Yamaha 25HP, ShoreLand'r trailer; Paddle King 4-person paddle pontoon, new trailer; Forester 15', Evinrude 40HP OB, trailer; Lancer 26' Weekender Galley Sailboat, Mariner 6HP OB, tandem trailer; New Handcrafted 14' sailboat with rudder; New Handcrafted tugboat and trailer; Alumacraft 17' Canoe; Cadillacs: 1989 Seville, tan, 51k; 1988 Seville, black, 190k; 1988 Deville,...
Show more
Show Less