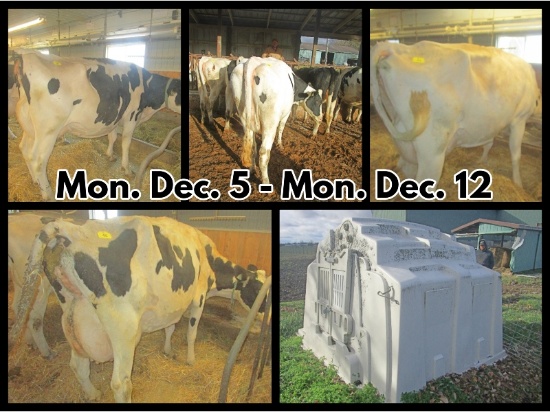 Online Dispersal Dairy Sale
Auction closed.
Online Dispersal Dairy Sale
Internet Premium:
0% - 10%
See Special Terms for additional fees
Description
Online Dispersal Dairy Sale
Complete Dispersal of a Holstein Herd
Including Milk Cows and Bred Heifers Plus Dairy Related Items
Owner/Operator Jeff and Nicole VanSchaik
171 The Glen Road, Woodville, Ontario
705-308-6383

Starts: Monday, December 5, 2022 at 9:00 a.m.
Close Starts: Monday, December 12, 2022 at 7:00 p.m.

Terms & Conditions:

Please Note:

For your convenience if you are a 'successful bidder' you will receive an email from invoices@proxibid.com with your Invoice from Kevin Barker Auctions Ltd. To make payment arrangements please contact our office at 705-328-1478, once payment is received you will receive a Proof of Payment Invoice to show at pick up!

If you are having difficulty creating an account or bidding with your existing account, please call Proxibid Customer Support toll free at 1-877-505-7770

The Credit Card you provide when Registering with Proxibid will NOT automatically be charged for your purchase!

This sale will close 1 Lot every minute, if there...
Show more
Show Less