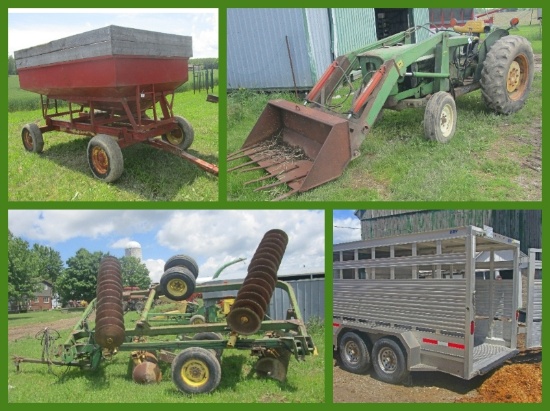 Online Farm Auction
Auction closed.
Description
Online Farm Auction
of Farm Machinery Equipment, Cattle Handling Pieces, Livestock Trailers, Plus More!

The Properties of Jamie Healy (4254 Con. 12, Ramara Township) and John Gilchrist (6857 Benson Road, Ramara Township)

Runs Mon., June 20th - Mon., June 27th, 2022

Sale items include livestock trailers, JD Silage Special round baler, JD forage harvester, Hi-Qual cattle squeeze, wagons, JD tractor plus much more!

Terms & Conditions:

For your convenience if you are a 'successful bidder' you will receive an email on Tuesday, June 28,2022 from invoices@proxibid.com with your Invoice from Kevin Barker Auctions Ltd. To make payment arrangements please contact our office at 705-328-1478, once payment is received you will receive a Proof of Payment Invoice to show at pick up!

For Instructional Videos on How to Register with Proxibid and How to Bid with Proxibid, follow the link on either Kevin Barker Auctions Ltd. Future Sales Page or the Online Auctions drop down menu tab Instructional Videos.

If you are...
Show more
Show Less