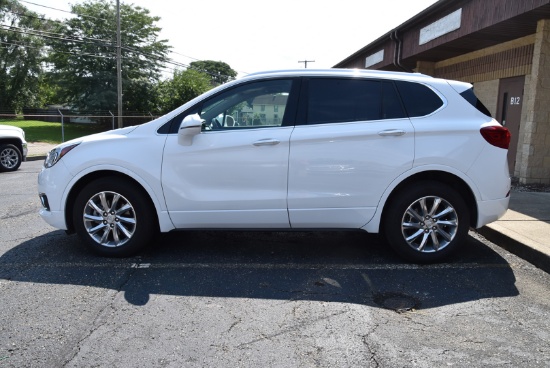 Chevy Malibu - Buick - Fords - 16450 - Joe Gordon
Saturday, October 3, 2020 | 10:30 AM Eastern
Auction closed.
Chevy Malibu - Buick - Fords - 16450 - Joe Gordon
Saturday, October 3, 2020 | 10:30 AM Eastern
Description
'20 Chevrolet Malibu LT – '19 Buick Envision Essence
'15 Ford Expedition XLT – '17 Cadillac ATS - '19 GMC Terrain SUV
'13 Honda Accord LX – '18 Ford Escape SEL – '03 Cadillac Sedan DeVille
Live & Online Bidding Available

Lot # 1 (Sale Order: 1 of 8)
2019 Buick Envision Essence SUV w/ 4 cyl. 2.5 liter engine, AWD, navigation, backup camera, keyless ignition and remote start, leather interior, heated front and rear seats, 11,305 mi., vin #LRBFX2SA9KD025464. Rebuilt title for front bumper and cover, hood, left fender all replaced w/ dealer OEM parts, state inspected. Work done by a certified Mechanic.

Lot # 2 (Sale Order: 2 of 8)
3.6 liter Double Overhead cam 335HP V-6 engine, Sunroof, heads up display, navigation, leather interior, Blind zone detection, Bose 10-speaker surround sound system. 28,241 mi., vin #1G6AE1RS6HO183595. Rebuilt title, front bumper, hood, right fender replaced. State inspection and certified mechanic inspected.

Lot # 3 (Sale Order: 3 of 8)
2015 Ford Expedition XLT w/ 3.5 liter Eco-boost twin-turbo 365 HP engine, Sunroof, navigation, remote start, backup camera, Leather interior, heated and cooled front seats, power third-row fold-down seats, Blind zone detection. 50,522 mi., vin #1FMJU1HT6FEF03486. Rebuilt title. Right headlight, front bumper cover, right fender, hood and grill replaced w/ OEM Ford genuine parts, State inspected, Certified mechanic inspected.

Lot # 4 (Sale Order: 4 of 8)
2019 GMC Terrain SLE SUV, FWD w/ 4 cyl. 1.5 liter turbocharged engine, navigation, remote start, factory warranty 3 yr./36,000 until Nov. 2021, Powertrain 60,000 mi. until 2023. 14,428 mi., vin #3GKALMEV2KL101395.

Lot # 5 (Sale Order: 5 of 8)
2020 Chevrolet Malibu LT w/ 1.5 liter Turbocharged Eco-Tech engine, remote start, Chevrolet Infotainment 3 system. 1,289 mi., vi#1G1ZD5ST1LF044647. Rebuilt title for right side fender, hood, and front bumper replaced. All parts OEM. State inspected by state-certified mechanic.

Lot # 6 (Sale Order: 6 of 8)
2018 Ford Escape SEL SUV, AWD, 1.5 Liter Eco Boost engine, leather interior, backup camera, remote start, navigation, 15,902 mi., vin #1FMCU9HD3JUD55943. Rebuilt title for left front damage. All Parts replaced OEM Genuine Ford Parts, State inspected, secondary inspection by certified mechanic.

Lot # 7 (Sale Order: 7 of 8)
2013 Honda Accord LX, 4 door w/ 4 cyl. 2.5 Liter engine, backup camera, 28,407 mi., vin #1HGCR2F37DA082424. Rebuilt title minor right rear, right rear bumper cover replaced, right rear tail light, right rear quarter panel fixed. State and certified mechanic inspected.

Lot # 8 (Sale Order: 8 of 8)
2003 Cadillac Sedan Deville, w/ 4.6 liter Northstar engine, fully loaded, Premium stereo AM/FM/CD//Cassette, Books and service records, original bill of sale, 90,311 mi., vin #1G6KD54Y83U197185.