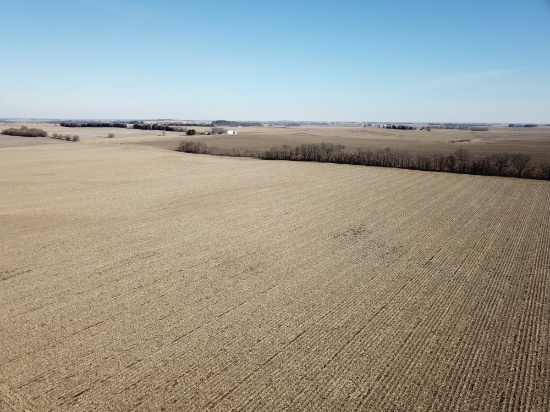 The Virginia C. Severns Trust Farmland Auction
Wednesday, February 24, 2021 | 10:00 AM Central
Auction closed.
The Virginia C. Severns Trust Farmland Auction
Wednesday, February 24, 2021 | 10:00 AM Central
Internet Premium:
See Special Terms for additional fees
Description
Selling +/- 358 acres in 5 tracts located in Pennsylvania Township, Mason County, Illinois

THE LAND WILL BE OFFERED IN FIVE SEPARATE TRACTS AND WILL BE OFFERED AS BUYERS CHOICE

THE TRACTS WILL BE SOLD ON A DOLLAR PER ACRE BASIS.

THE SELLER WILL HAVE THE RIGHT TO REFUSE ANY AND ALL BIDS.

THE BUYER AND SELLER WILL ENTER INTO A WRITTEN CONTRACT AT THE CONCLUSION OF THE AUCTION.

THE FARMS HAVE OPEN TENANCY FOR THE 2021 CROP YEAR.

A 10% DOWNPAYMENT WILL BE DUE ON THE DAY OF THE AUCTION.

BALANCE WILL BE DUE AT CLOSING ON OR BEFORE MARCH 26, 2021.

THE SALE IS NOT CONTINGENT ON FINANCING. HAVE YOUR FINANCING IN ORDER BEFORE BIDDING.

A CREDIT FOR THE 2020 TAXES DUE IN 2021 WILL BE GIVEN TO THE BUYER AT CLOSING.

A TITLE POLICY WILL BE ISSUED TO THE BUYER FOR THE AMOUNT OF THE SALE.

SELLER WILL ISSUE A PROPER DEED CONVEYING TITLE TO PROPERTY AT CLOSING.

CLOSING WILL TAKE PLACE AT THE MASON CITY NATIONAL BANK.

THE FARMS ARE CURRENTLY GETTING...
Show more
Show Less
Lot # 0 (Sale Order: 1 of 6)
THE LAND WILL BE OFFERED IN FIVE SEPARATE TRACTS AND WILL BE OFFERED AS BUYERS CHOICE. THE TRACTS WILL BE SOLD ON A DOLLAR PER ACRE BASIS. THE SELLER WILL HAVE THE
...more
Lot # 1 (Sale Order: 2 of 6)
Quantity: 39
- Broadwell, Onarga, Plano & Ade Soils - 125 PI PT SE 1/4 of the NE 1/4 of Section 23, Township 21 North, Range 6 West, Mason County, Illinois
$

7,900.00

x 39 = $

308,100.00

Total
Lot # 2 (Sale Order: 3 of 6)
Quantity: 80
- Subject to an Underground Electric Transmissiond Line Easement With An Annual Payment of +/- $18,000 - Broadwell, Pillot, Edgington, Onarga, Lawndale & Ade Soils
...more
$

11,600.00

x 80 = $

928,000.00

Total
Lot # 3 (Sale Order: 4 of 6)
Quantity: 81
Broadwell, Onarga, Pillot, Ade, Edgington, & Sparta Soil Types - 132 PI - E 1/2 SE 1/4 Section 23, Township 21 North, Range 6 West, Mason County, Illinois
$

9,300.00

x 81 = $

753,300.00

Total
Lot # 4 (Sale Order: 5 of 6)
Quantity: 80
- Broadwell, Ade, Pillot, Onarga, & Sparta Soil Types - 130 PI - W 1/2 SW 1/4 Section 24, Township 21 North, Range 6 West, Mason County, Illinois
$

9,300.00

x 80 = $

744,000.00

Total
Lot # 5 (Sale Order: 6 of 6)
Quantity: 80
- Edgington, Pillot, Sparta, Ade, Lawndale, & Broadwell Soil Types - 120 PI - W 1/2 SW 1/4 Section 25, Township 21 North, Range 6 West, Mason County, Illinois
$

9,550.00

x 80 = $

764,000.00

Total