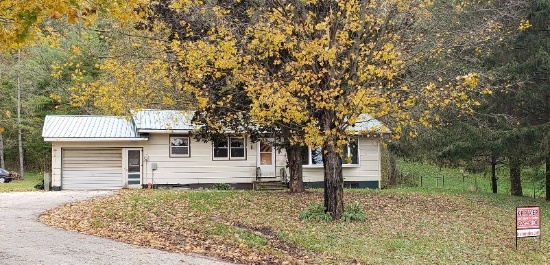 Crawford County Tax Delinquent RE Auction
Internet Premium:
10.00%
See Special Terms for additional fees
Description
Selling 3 Tax Delinquent properties at online only Auction for Crawford County WI.
Property 1: .474 Acres more or less on 11840 3rd Street Soldiers Grove, WI Village of Soldiers Grove Assessor's Plat Prt of Lot 56 (Annex #322660) & Prt of Lot 57 Parc...moreel #181-0081-0000 Appraised Value $10,000 Note: This is a 2 bedroom 2 Bath home with attached garage. Home has been recently lived in. The lot lines on this property run through the home. Be aware before bidding that the property is being sold this way & issues may arise for future owners. Conventional financing for this property would not be available because of the lot line issue. Property is on City Water & Sewer.
Property 3: 1.850 Acres more or less on 47941 State Hwy 171, Gays Mills, WI Town of Clayton Sect. 23-T10N-R4W Prt of the SW1/4 of SW1/4; Lyg S of State Hwy 171 Parcel ...more#004-0600-0003 Property appears to have a shed to the North encroaching on the plat of this property. Buyer beware of this potential issue. This Property has a recorded septic system plan & a well, condition of both are unknown. Appraised Value $2,500 Property has well information attached. Looks to be drilled to 525` in 2013. The property appears to have septic plan in place with no record of it ever being installed.
Property 6,7,8,9,10: .690 Acres more or less, 105 Spring Street, DeSoto, WI Village of DeSoto All properties located in Cheney's Addition: Lot 6 Block 2 Exc Outlot 3...more of CSM #860 Parcel #116-0002-0001, Lot 7 Block 2 Exc Outlot 2 of CSM #860 Parcel #116-0002-0002, Lot 8 Block 2 Exc Outlot 1 of CSM #860 Parcel #116-0003-0000, Lot 9 Block 2 Exc Outlot 1 of CSM #860 Parcel #116-0004-0000, A Pcl of land in Block 3 as Desc in Vol427/D/237 Property is partially in a wet area & structures have been abandoned for some time & appear to be unusable. Property also may have an artesian well which appears to be running constantly adding to the water issues. Appraised Value $500