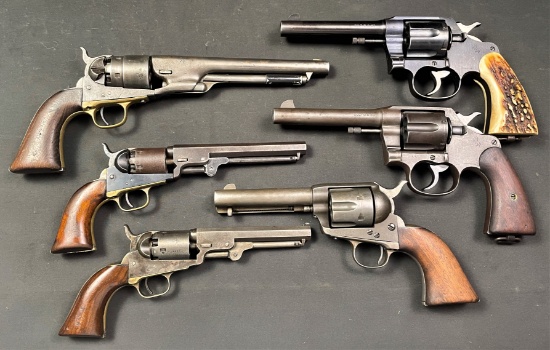 PREMIER COLLECTOR ONLINE GUN & JAGUAR AUCTION
Auction closed.
PREMIER COLLECTOR ONLINE GUN & JAGUAR AUCTION
Internet Premium:
0% - 17%
See Special Terms for additional fees
Cash Payment Discount:

2%
1 Minute Extended Bidding
Description
This fantastic auction offers 3 lifetime collections to include the RARE Colt revolving rifle, Spencer 1865 carbine, CSA Burger Bro Bowie knife, Brown Bess Twigg musket, 1842 U.S. Springfield, 1853 Enfield Tower, Battery Gun Company 1862 Gatling gun, Browning Model 1919 A4, semi auto, Colt & Remington Armies, Colt Navies, Colt Lightings, Mauser Broomhandles, Luger, P-38, Marbles Game Getter, Colt SAA, Enfield Jungle carbine, Otto Bock double shotgun, RARE Winchester Model 12, 28 gauge, Winchester Model 12 Pigeon Grade, Winchester Model 42 Deluxe, Mauser MG 34 machine gun, deactivated, Springfield M1D Sniper Rifle, over 100 Colt and Smith & Wesson handguns includes "Lady Smith's", Civil War edged weapons, Japanese Katanas, U.S. Currency, collectible hard-to-find ammunition, Nazi uniforms, helmets, Crow Indian artifacts, AKM parts kits, lots of military artifacts and so much more. In addition to the above we are selling at ABSOLUTE, NO RESERVE AUCTION a spectacular 15 car Jaguar XJ collection. This includes model years 1973-2014, XJ 6, 8 & 12. Plus, a full line of SK...
Show more
Show Less