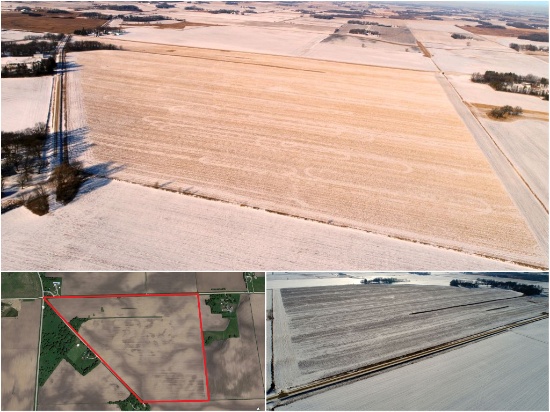 169.58 Acres Of Bare Crop Land, in Steele Co. MN
Bidding ends Tuesday, February 1, 2022 | 1:00 PM Central
Auction closed.
169.58 Acres Of Bare Crop Land, in Steele Co. MN
Bidding ends Tuesday, February 1, 2022 | 1:00 PM Central
Internet Premim:
See Special Terms for additional fees
Description
169.58 ACRES IN SECTION 26 OF AURORA TOWNSHIP, STEELE COUNTY, MN. 160.9 TILLABLE ACRES, 90 CPI AVERAGE, DRAIN TILE IN PLACE, CLASS A FARM LAND, CENTURY FARM, SELLING TIMED ONLINE ONLY REAL ESTATE AUCTION
Quantity: 170
*** PID: 04-026-3000, Taxes For 2022, $8,746.00
*** Address: 95XX 75th Ave SE, Blooming Prairie, MN, Located In Section 26, Aurora Township, Steele County, MN
*** Total Acres: 169.58 Acres, Surveyed Nov. 2018
*** Tillable Acres: 160.9 Acres
*** Crop Productivity Index: 90 CPI Average, Over 95 Acres At 94CPI
*** Drain Tile In Place, Approximately 55,706 Feet Of 4, 5, 6, 8, 10 & 12 Inch Drain Tile, Installed By Hodgeman
*** Farm To Be Sold 169.59 Acres Time The Amount Bid
*** No Lease In Place, Buyer Can Operate In 2022 Growing Year
Terms: $50,000.00 Down The Day Of The Auction, Which Is Non-Refundable In Buyer(s) Fail To Close. The Balance Is Due And Payable In Full To The Sellers On Or Before March 15th, 2022, At Which Time The Buyer(s) Shall Receive Possession And A Clear Marketable Title. All Real Estate Taxes Due In The Year Of 2022 Shall Be Pro-Rated To The Date Of Closing. All Real Estate Is Selling In AS-IS Condition With No Warranties Or Guarantees Expressed Or Implied By The Seller Or Any Of Their Agents. All Bidders And Buyers Must Have Their Finances In Order Prior To Registering. No Buyers Fee.
With Questions About The Farm Or Bidding Call 800-801-4502
Informational Packet.pdf
$

9,800.00

x 170 = $

1,666,000.00

Total