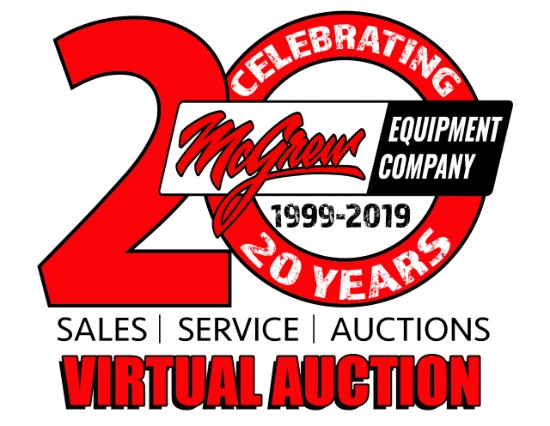 Nothing Can Stop an Auction #4
Tuesday, April 14, 2020 | 9:00 AM Eastern
to bid until the live auction begins!
Nothing Can Stop an Auction #4
Tuesday, April 14, 2020 | 9:00 AM Eastern
to bid until the live auction begins!
Internet Premium:
Tiered
Instant Financing | Low Payments
See Special Terms for additional fees
Description
Nothing can stop an auction! Join us every Tuesday at 9AM for a virtual farm and construction equipment auction. Expect 100-150 pieces of equipment and 50 attachments.

Inspections available for most pieces of equipment!

We want to keep our customers safe during this time, but commerce must continue!

Call in with any questions - 717-428-0922
Lot # 1 (Sale Order: 1 of 6)
Buyers must read and COMPREHEND ALL terms and conditions before bidding. When registering, you are agreeing to all terms and conditions. McGrew Equipment Company LLC nor
...more
Lot # 2 (Sale Order: 2 of 6)
All internet purchases must be paid for in 5 business days, by Cash (In House Only), Bank Wire Transfers, and Check or a Company Check accompanied with a bank letter of g
...more
Lot # 3 (Sale Order: 3 of 6)
Sale order to be set Friday, April 10. Please check back often for updates.
Lot # 4 (Sale Order: 4 of 6)
McGrew Equipment charges a 10% buyers premium with a $500 cap per item. There is also a 2% provider fee.
Lot # 5 (Sale Order: 5 of 6)
Attending our auction and in need of freight? Be prepared to bid and know the costs of freight in advance! We take pride in moving our customersÍ freight at a fair rate,
...more
Lot # 6 (Sale Order: 6 of 6)
Effective immediately, the collection of sales tax in a state is no longer dependent on a seller's physical presence in a state. Other factors, such as selling online in
...more