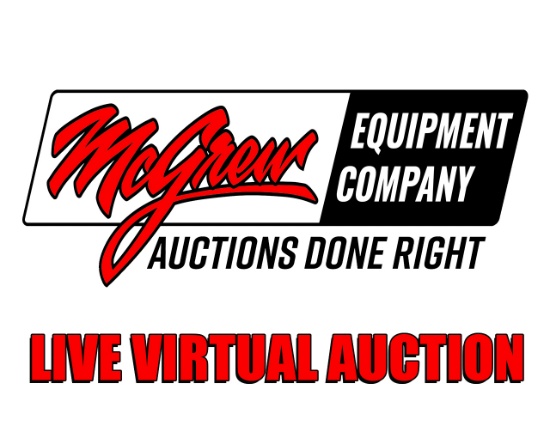 McGrew Equipment Live Virtual Auction
Tuesday, May 25, 2021 | 9:00 AM Eastern
to bid until the live auction begins!
McGrew Equipment Live Virtual Auction
Tuesday, May 25, 2021 | 9:00 AM Eastern
to bid until the live auction begins!
Internet Premium:
Tiered
Instant Financing | Low Payments
See Special Terms for additional fees
Description
Join us at 9AM for a virtual farm and construction equipment auction. Expect 150-200 pieces of equipment and 50 attachments.

Call in with any questions - 717-428-0922
Lot # 1 (Sale Order: 1 of 7)
Buyers must read and COMPREHEND ALL terms and conditions before bidding. When registering, you are agreeing to all terms and conditions. McGrew Equipment Company LLC nor
...more
Lot # 2 (Sale Order: 2 of 7)
All internet purchases must be paid for in 5 business days, by Cash (In House Only), Bank Wire Transfers, and Check or a Company Check accompanied with a bank letter of g
...more
Lot # 3 (Sale Order: 3 of 7)
Sale order to be set the Friday before the sale. Please check back often for updates.
Lot # 4 (Sale Order: 4 of 7)
McGrew Equipment charges a 10% buyers premium with a $500 cap per item. There is also a 2% provider fee.
Lot # 5 (Sale Order: 5 of 7)
Attending our auction and in need of freight? Be prepared to bid and know the costs of freight in advance! We take pride in moving our customers freight at a fair rate,
...more
Lot # 6 (Sale Order: 6 of 7)
Effective immediately, the collection of sales tax in a state is no longer dependent on a seller's physical presence in a state. Other factors, such as selling online in
...more
Lot # 7 (Sale Order: 7 of 7)
Items are being sold from multiple locations which will be noted in their description, as well as on your invoice. Please call in with any questions regarding the locatio
...more