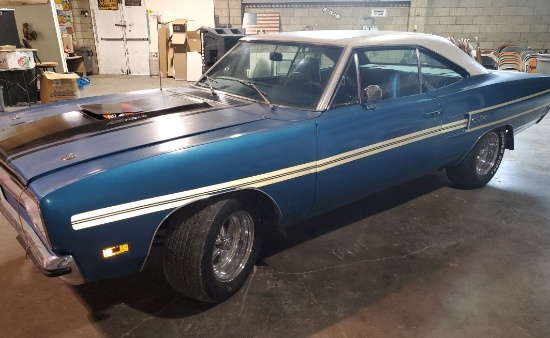 1970 Plymouth GTX 426 Hemi. 2 door-4speed
Saturday, February 15, 2020 | 10:00 AM Pacific
Auction closed.
1970 Plymouth GTX 426 Hemi. 2 door-4speed
Saturday, February 15, 2020 | 10:00 AM Pacific
Description
Selling a One Owner 1970 Plymouth GTX 426 Hemi. This car was purchased by the Original Owner with many Dealer upgrades, mileage reads 85k. We can not verify mileage .1 of 43 made that year with 4 speed manuall. Comes with Legendary Upolstry kit. So far all numbers match. Will post more info as needed.
541-890-5344
Payments may be Wire Transferred, Cash, Certified Cashiers Check.
Checks or Wire Transfer
Millard Auction Company
All information is deemed reliable but should never be used in making a purchase. Auction Company is passing what informaqtion they kn ow about the car from sourcesthat either knew the Original owner or from the State of Oregon. Auction Company will not be held rel;iable for any or all information please do your own Due Diligence when making a purchase!