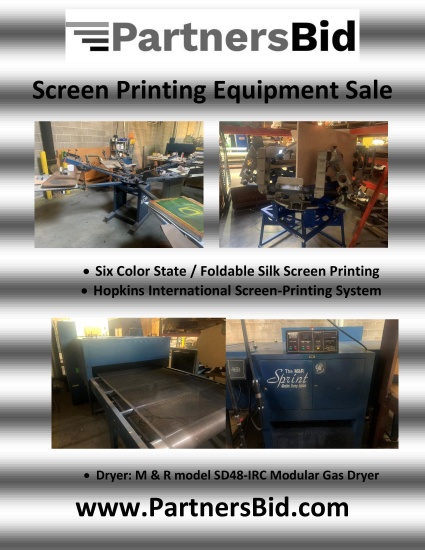 Screen Printing Equipment
Auction closed.
Screen Printing Equipment
Description
At Auction, two pieces of equipment used in screen printing.

Dryer: M & R model SD48-IRC Modular Gas Dryer
Gas Heat operation, assembled dimensions 4 feet wide, 33 inches high (conveyor height) over-all length 24.5 feet (293 inches)
It appears to break down into three (3) components

Six color station / foldable Silk Screen printing operation: Hopkins International Screen printing system

***Picture shown with arms extended is a 4 station model***

No dimensions.

PartnersBid will contact the Buyers after the end of the auction to arrange pickup. Buyers shall be responsible for removal and transportation. Items located near Eppley Airport in Omaha, NE. Dock door available.

Dryer: M & R model SD48-IRC Modular Gas Dryer Gas heat operation. Assembled dimensions 4' wide, 33" high ( conveyor height ) over-all length 24.5 Feet (293 ")
...more
Four color station / foldable Silk Screen printing operation: Hopkins International Screen printing system ***Picture shown with arms extended is a 6 station model***
...more