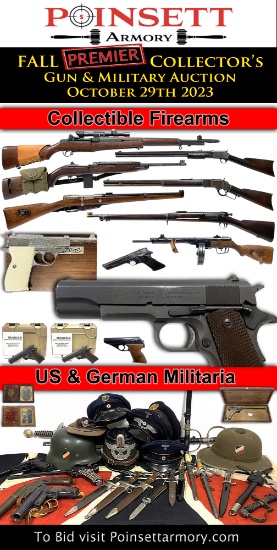 Fall Premier Collector's Gun & Military Auction
Auction closed.
Fall Premier Collector's Gun & Military Auction
Internet Premium:
0% - 18%
See Special Terms for additional fees
5 Minute Extended Bidding
Description
This is our 2023 Fall Premier Collector's Gun & Military Online Auction and it consists of 100 collectible, military, and sporting firearms along with 250 other items including bayonets, holsters, magazines, slings, ammo, knives, swords, and more!

This auction is jam packed with WWII German Militaria including Swords, Daggers, Helmets, Medals, Pins, Tinnies, Flags, Patches, and loads of other interesting items!

Just a few gun highlights in this auction are:
(1) Springfield Armory M1D Garand Sniper
(2) 1941 Colt 1911A1 "WB Inspected" Pistol Rig
(3) WWII Japanese Type 99 Rifle with Mum
(4) Engraved Chrome Walther P38 in Box
(5) Antique Colt SAA Revolvers
(6) Antique London Agency Colt SAA .450
(7) Colt Lightning Medium Frame .32 Rifle
(8) Winchester Model 1873 .38/40 Rifle
(9) Slotted WWII Nazi Radom VIS P35 Pistol
(10) Nazi Police Mauser HSC Pistol
(11) Nazi Police J.P. Sauer Model 38H Pistol
(12) Nazi Marked French "Unique" 17 Pistol
(13) Slotted Italian Army Beretta M1923 Pistol
(14) Nazi...
Show more
Show Less