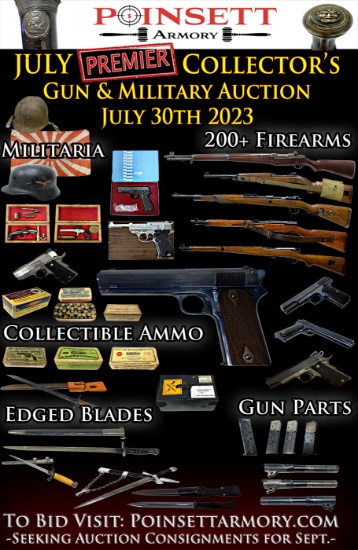 July Premier Collector's Gun & Military Auction
Auction closed.
July Premier Collector's Gun & Military Auction
Internet Premium:
18%
See Special Terms for additional fees
Cash Payment Discount:

3.5%
5 Minute Extended Bidding
Description
This is our 2023 July Premier Collector's Gun & Military Online Auction and it consists of over 200 collectible, military, and sporting firearms. Other items you will find in this auction are Historical & Mlitary collectibles, Bayonets & Edged blades, Vintage ammunition, Various gun parts, Colt 1911 barrels, Firearm Magazines, Blackpowder Canons and Antique Guns.

Just a few gun highlights in this auction are:
(1) Colt Model of 1905 Military Pistol
(2) All Original & Correct WWII Winchester M1 Garand w/ WRA/GHD Cartouche
(3) WWII Japanese Type 38 Cavalry Carbine
(4) WWII Japanese Transitional Type 99
(5) Interarms Walther Factory Engraved Chrome/Silver P38 Pistol in Box
(6) NIB West German Sig Sauer P220
(7) 1800s Flintlock Chief's Grade Indian Trade Gun
(8) 18th Century Grotesque Mask Pistol
(9) Original Philadelphia Derringer Percussion Pistol
(10) NPM / Union Switch & Signal M1 Carbine

The end date for this auction is Sunday, July 30th at 7PM EST - Which means at 7PM EST this auction will begin to end 3 lots...
Show more
Show Less