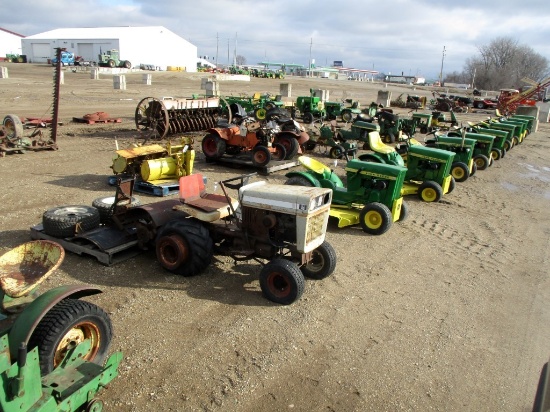 Annual Spring Collector Auction - APRIL 1st
Wednesday, April 1, 2020 | 8:30 AM Eastern
Auction closed.
Annual Spring Collector Auction - APRIL 1st
Wednesday, April 1, 2020 | 8:30 AM Eastern
Description
Annual Spring Collector Farm Equipment, Lawn & Garden,Trailers, Skidsteer Attachments & Collectibles - LIVE/VIRTUAL ONLINE Auction - WEDNESDAY, APRIL 1st

Dear Polk Auction Customers,
After much contemplation we have made the decision to forge ahead with our upcoming auction as scheduled. BUT due to the current COVID-19 situation there will be MANY deviations to what has been a long-standing tradition of our Annual Spring Collector Auction. In effort to comply with the governmental guidelines regarding social distancing & mass gathering, we are making necessary adjustments for the health of our customers & community.
SO HERE'S THE PLAN!
WEDNESDAY APRIL 1st THROUGH SATURDAY APRIL 4th we will be having a LIVE, VIRTUAL AUCTION w/ ONLINE BIDDING for Equipment & Tractors! This means we will be conducting and filming the auction with LIVE AUCTIONEERS ONSITE with LIVE video feed for bidders to view with ALL bidding available ONLINE in REAL TIME. There will be ONE RING starting @ 8:30am EST each day with items selling as follows:
• WEDNESDAY, APRIL...
Show more
Show Less