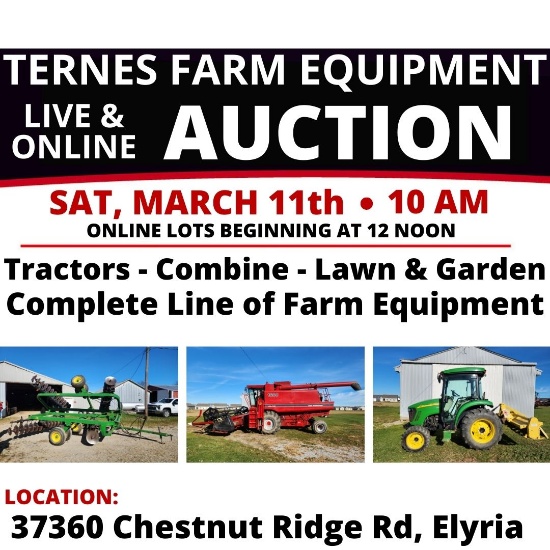 Absolute Ternes Farm Equipment Auction
Saturday, March 11, 2023 | 12:00 PM Eastern
Auction closed.
Absolute Ternes Farm Equipment Auction
Saturday, March 11, 2023 | 12:00 PM Eastern
Description
ABSOLUTE AUCTION

TERNES FARM EQUIPMENT

SATURDAY, MARCH 11, 2023 | 10:00 AM

Online Bidding Beginning at 12 Noon

Will sell on location 37360 Chestnut Ridge Rd. Elyria, OH.

TRACTORS – COMBINE & BACKHOE: Sharp '07 JD 4720 compact 4 WD tractor w/full factory cab, 17.5x24 rears, 3 pt., 1336 hours; '83 JD 4650 4 WD tractor w/full factory cab (interior replaced), Powershift, triple remotes, 18.4x42 rears w/axle duals, inside weights, 10 front weights, 16.9x28 front rubber, quick tach, unknown hrs. (estimate 10,000). The tractor looks good and runs great. '63 JD 4010 diesel Tractor w/20 Series Kit, synchro trans., sells w/HD 8' front blade, Year Round Cab, 18.4 x 34 rears and unknown hours. This is a one-owner tractor. '48 Farmall M gas tractor w/good metal; '89 Case IH 1680 2 WD Axial Flow combine w/specialty rotor, 88 series fan, rock trap, power reverser, rice tires, unknown hrs. (estimated over 5000); The machine is clean and runs fine has had limited use for the past 15 years. Selling separate Case IH 1020...
Show more
Show Less