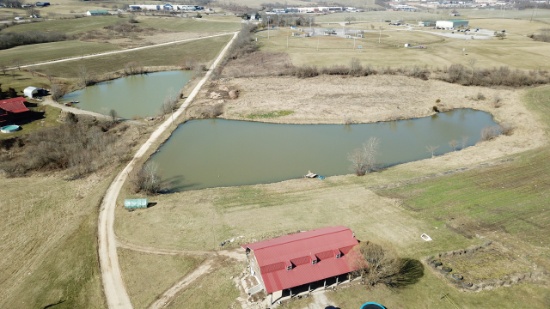 Mason Co KY 552 +/- Acre Land Auction
Monday, May 3, 2021 | 5:30 PM Eastern
to bid until the live auction begins!
Mason Co KY 552 +/- Acre Land Auction
Monday, May 3, 2021 | 5:30 PM Eastern
to bid until the live auction begins!
Internet Premium:
5%
See Special Terms for additional fees
Description
Coming to auction on May 3rd, 2021 is the Burkholder farm offering 552 +/- total acres with approximately 176 tillable acres in 10 tracts. Tracts 3, 4, 5, 8 & 9 will be sold ABSOLUTE! This diverse farm near Maysville, KY offers a convenient location, tillable income, excellent whitetail hunting, lodge-style home, and outbuildings. Located off AA Highway you can get to downtown Cincinnati or Lexington within 1 hour and 15 minutes. This area is known for trophy-class whitetails and is a zone 1 hunting county. If you're interested in diversifying your assets or a 1031 tax exchange, there's ROI in the form of tillable and/or hunting income if desired. The farm is under a mile from the waters of the Ohio River and provides some dynamic views. Farm soils consist of primarily Lowell-Sandview and Lowell-Faywood silt loam.
Lot # 1 (Sale Order: 1 of 10)
Quantity: 87
87 +/- total acres with an approximately 3,000 square foot home, metal building, and 44.8 +/- acres of estimated tillable ground. The home has a lodge-type feel with grea
...more
Lot # 2 (Sale Order: 2 of 10)
Quantity: 80
80 +/- total acres with 49.1 +/- estimated tillable acres. This is a mostly tillable tract with wooded draws. This parcel lays well and will make a good addition to any f
...more
Lot # 2A (Sale Order: 3 of 10)
Quantity: 23
23 +/- total acres with 7.8 +/- estimated tillable acres. This is a phenomenal hunting piece bordered by private non-hunting ground and the tillable ground on tract 2. Th
...more
Lot # 3 (Sale Order: 4 of 10)
Quantity: 36
36 +/- total acres with 11.45 +/- estimated tillable acres selling absolute. This is a great hunting tract and will add it to your tillable acreage. Parcels with this bal
...more
Lot # 4 (Sale Order: 5 of 10)
Quantity: 151
151 +/- total acres with 35.32 +/- estimated tillable acres selling absolute. This tract offers the best of both worlds, with dynamite hunting and tillable acres providin
...more
Lot # 5 (Sale Order: 6 of 10)
Quantity: 55
55 +/- total acres with 3.9 +/- estimated tillable acres selling absolute. Less than a mile away from the Ohio River this tract offers spectacular views and building site
...more
Lot # 6 (Sale Order: 7 of 10)
Quantity: 50
50 +/- total acres with 11.5 +/- estimated tillable acres. This tract is a dynamite hunting piece with lots of edge habitat and ample opportunity for food. It is covered
...more
Lot # 7 (Sale Order: 8 of 10)
Quantity: 46
46 +/- total acres with 12.25 +/- estimated tillable acres. This tract is also a great hunting piece with a balance of cover and food. The deer sign was littered througho
...more
Lot # 8 (Sale Order: 9 of 10)
Quantity: 14
14 +/- total acres with access from Lawrence Road Spur just off Hwy 11 selling absolute. This is a mostly wooded tract that provides the perfect opportunity to own a recr
...more
Lot # 9 (Sale Order: 10 of 10)
Quantity: 10
10 +/- total acres with road frontage and access off Hwy 11 selling absolute. This is a mostly wooded piece that provides potential building sites on the top acreage over
...more